Monthly Archives:
April 2009
April 30, 2009 by Kelleigh Dulany
Maine DOT has announced that it will be rehabilitating the northbound lanes of I-295 north of Freeport, from Topsham to Gardiner this summer. The northbound lanes will be closed, but northbound traffic will be using the southbound lanes, from June 15, 2009 through August, 2009.
Southbound traffic will be required to use an alternate route. Our suggestion for southbound traffic is to either take US-201 from Gardiner to Topsham (the purple line below), or take I-95 south to Lewiston-Auburn, then take Maine Route 136 to Freeport (the green line below).

View To Freeport, ME from North, June 15 – August 2009 in a larger map
Also, the exits from I-295 for Bowdoinham and Richmond will allow exiting from I-295, but the entrances will be closed.
April 29, 2009 by Kelleigh Dulany
In part one of the Where to Find the Information You Need post, we discussed the regions of Maine that you may want to visit, and type of environment you will find in each.
This installment will discuss where you can find some more specific information.
Where to visit
Any of the regions listed in the first post, or listed at the State of Maine's Tourism site would be a good choice. If you prefer smaller villages, or larger cities, mountain lakes or coastal beauty, you have choices to make.
Mountains and Lakes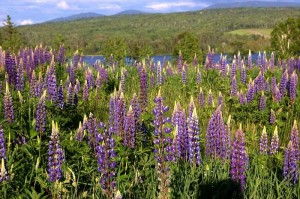 Among the beautiful spots in western Maine are Rangeley and Moosehead Lake. Both are beautiful lake areas, with rivers and mountain streams, and loads of wildlife. You can rent a kayak or canoe, and drift right up to moose grazing along the river. Farther north is Aroostook County (or "the county" as Mainers would tell you) for a real north woods experience.
Coastal Areas
If the coast is more to your liking, there is the southern coast, from Kittery to Cape Elizabeth. There are sandy beaches and great ocean views near some of the popular communities like Old Orchard Beach, York Beach, and Kennebunkport. A little farther up the coast is Bailey Island, accessible by a one-of-a-kind cribstone bridge, followed by Boothbay Harbor, Bristol and Pemaquid Point, then all the towns of Penobscot Bay, Rockland, Rockport, Camden, Lincolnville, etc. Still farther north is Bar Harbor and the surrounding towns, then the population thins out as you head north past Machias toward Calais and the Canada border.
Larger Cities
Of course, Portland is Maine's largest city, offering a wonderful variety of restaurants, from fine dining to traditional Maine diners, and most every variation in between, as well as theater, symphony, museums and art galleries. Other fine choices are Augusta, Bangor and Bath. Each has its distinctive history and attractions.
Villages
Small villages proliferate in Maine. From Kennebunkport's upscale charm, to Freeport's historical friendliness, Camden's beautiful chic, and Southwest Harbor's nautical feel. Inland, there are such delights as Rangeley, Freyburg, Skowhegan, Dexter, Greenville, and Millinocket.
Probably the best known park is Acadia National Park, on Mount Desert Island. However, there are also quite a number of State Parks, all providing hiking, many with camping, and all with wonderful views of Maine's incredible scenery. For the ambitious there is Baxter State Park, home of Maine's highest point, Mount Katahdin. For the less athletic, there is Camden Hills State Park, with its magnificent view of Camden's harbor, or Bradbury Mountain State Park, with views back toward Freeport and Casco Bay. Also in Freeport is Wolfe Neck State Park, with trails along the edge of Casco Bay.
Stay tuned for more on where to find information on lighthouses, moose and lobster!
April 23, 2009 by Kelleigh Dulany
L.L. Bean has announced the schedule for its Summer Concert Series 2009.
Details will be posted shortly on our event calendar, as well.
Who is your favorite?
April 23, 2009 by Kelleigh Dulany
If you've never visited Maine you may find yourself wondering where to start to gather the information you need on places to visit (which lighthouses should I see?), things to see and do (where can I see a moose?), where to stay, dine and play, and the all-important question, "where can I get lobster?"
We've gathered some of the best information for you, so you can begin to plan that very special vacation! Over the next several posts, we'll try to answer these questions and provide resources for more information.
Where should I go in Maine?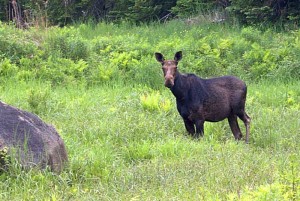 Maine's Office of Tourism divides the state into eight regions, and you'll find something wonderful in every one of them. The regions (more or less south to north) are Maine Beaches (did you know Maine has beaches? This is the area on the Atlantic coast just north of the New Hampshire border, from Kittery to around Kennebunkport), Greater Portland and Casco Bay (everything from Cape Elizabeth to Freeport), Lakes and Mountains (the unspoiled mountains and lake areas from New Hampshire north beyond Naples), Kennebec and Moose River valleys (from Augusta north almost to Quebec, Canada), Midcoast (from Brunswick north beyond Belfast), the Maine Highlands (a large area, encompassing Bangor, Greenville and Millinocket), Downeast and Acadia (from Bar Harbor to Eastport and Calais), and finally Aroostook County (everything north to the Canada border).
Where you go depends on what you like to see and do. If you like hiking, camping, fishing, skiing and other outdoor activities, almost any of these areas will have what you are looking for. If you're looking for beaches, the Maine Beaches and the Midcoast are your best bet.
For lighthouses, harbors, lobster shacks and hidden places known only to the locals, almost anywhere along the coast will have them, but there may be more of them in the Midcoast and Downeast and Acadia areas than some of the others.
And, of course, if you are trying to see a moose… Well, it is possible to see a moose in virtually any part of Maine, but they are more likely to show themselves in the western and northern parts of the state.
In the next installment we'll talk about resources for learning more about some of the places to visit, and where to go for more information.
Is there anything about Maine you'd like to know? Please post a comment and we'll get you the answer, or if the answer is a long one, we'll work on posting a new entry on that topic.
April 21, 2009 by Kelleigh Dulany

Check out our newer article, Touring Maine Lighthouse (with Lighthouse Map), too!
Freeport evokes different thoughts for different people. For many it is L.L. Bean and the many shops and restaurants within easy walking distance of your B&B. But for others it is its prime location on the Maine coast, in easy driving distance from lobster shacks, hidden harbors, and most intriguingly, lighthouses.
Maine has over 60 lighthouses, many on, or within sight of, the coast. If you enjoy seeing and photographing lighthouses, there are five great ones you can visit within just over an hour's drive from Freeport.
We'll begin just over an hour south of Freeport, and work our way about an hour north.
1. Cape Neddick Lighthouse (The Nubble)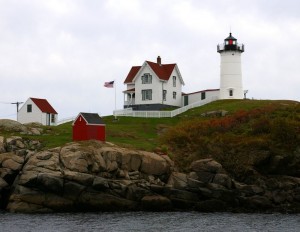 Cape Neddick Light is on a tiny island (called the Nubble), just 200 yards off shore near York Beach, Maine. Accessible only by cable car, which was manually operated until electrified not many years ago. The parking area on the mainland is on a raised, rocky point, so the view of the lighthouse and keepers house are excellent. It is one of the most frequently photographed and visited lighthouses in Maine.
2. Goat Island Light (Cape Porpoise)
Near the scenic village of Kennebunkport is Cape Porpoise harbor, with Goat Island Light guarding its entrance. The lighthouse can be best seen from the Municipal pier in Cape Porpoise. This was the last manned lighthouse in Maine, being automated in 1990, after having been manned as a security station during the presidency of George H.W. Bush.
3. Cape Elizabeth (Two Lights)
Just south of Portland, Maine is the pretty little community of Cape Elizabeth. On its south side, is the unusual Two Lights light station. Originally built as a single tower in 1811, in 1828 two towers were build, so that they would align to form a range, allowing mariners to easily find their bearing. Nearby is the famous Two Lights Lobster Shack, which offers some of the best views of Casco Bay.
4. Portland Head Lighthouse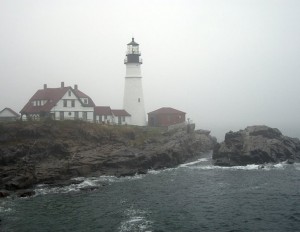 Also in Cape Elizabeth is Fort Williams Park, home of the easily recognized Portland Head Lighthouse. Commissioned in 1787 and taken over by the new US government in 1790, the lighthouse was first lit in 1791. In addition to the lighthouse and museum, and the magnificent views along the coast, Fort Williams park includes historic fort remains, an old mansion, a playground and picnic areas.
5. Pemaquid Point Lighthouse
Perched on a rocky bluff at the end of a peninsula, and overlooking Muscongus Bay, Pemaquid Point is one of the most dramatic and photographed lighthouses in Maine. On sunny summer days there will be artists all through the picnic area and on the rocks, painting or sketching the lighthouse. Built in 1827, the lighthouse warns of the treacherous rocky formations in the area. From the rocks you'll also see many lobster buoys marking the strings of lobster pots (traps) just off the rocks. Pemaquid Point Lighthouse is about an hour from Freeport.
Of course, this ignores many other lighthouses between Cape Neddick and Pemaquid – many offshore, and each with their stories to tell of ships foundering on the rocks and heroic rescues. And, if you venture just a bit farther, you'll see even more lighthouses and more spectacular views of the coast.
April 17, 2009 by Kelleigh Dulany
Our first Historic B&B Open House is this week – Friday, April 17 from 2-4 p.m. In addition to Brewster House, participating inns include White Cedar Inn, Kendall Tavern Inn, Captain Briggs House, James Place Inn and Royalsborough Inn at the Bagley House. If you're in the neighborhood, stop by each of the inns and enjoy hospitality, history, a tour and some refreshments.
For those who have been here in the past year, the giant construction project, where L.L. Bean's old Factory Store used to be, is nearly ready to open. Freeport Village Station, which will house shops, restaurants and parking (woo hoo!), is scheduled to be open in one month (May 16, 2009).
And a bit of off-season chatter – Scott was one of a panel of presenters at a seminar hosted by Maine Innkeepers today, on using social media. It was a full house, as businesses struggle to keep up with ever-changing technology.
April 16, 2009 by Kelleigh Dulany
We've moved! Not Brewster House, itself, of course, but our blog. Previously the blog could be found at http://www.BrewsterHouse.com/news, and previous posts can still be found there.
We've moved to a new location (http://blog.brewsterhouse.com) to help with organization and to take advantage of some of Blogger.com's features.
So, if you subscribe to our feed, you'll need to update it to use our new address (http://blog.brewsterhouse.com – sorry about that!). Otherwise, you'll still find the older posts at the prior location and the newer ones here.