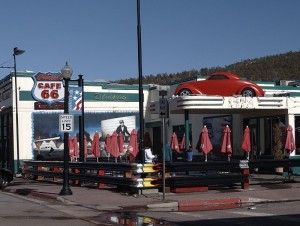 Monday, March 22: The cross-country trip continues…
We first visited friends in Virginia for a couple of days. It was great to see the old gang again!
Then a two-day trek to Austin, Texas (with an overnight at a B&B in Jackson, Tennessee) for the 4 day PAII (Professional Association of Innkeepers International) annual conference. We heard some great presentations and met many of the innkeepers we had relationships with online. Nice to meet them in person!
Next it was a super-long day, driving south to San Antonio, where we saw the Alamo, then up the west side of Texas (there isn't much there but cactus and sagebrush!), through El Paso, and into New Mexico, then across to Tucson, Arizona. Next day we had a short drive north to Williams, Arizona, where we had a lovely stay at a B&B just off Route 66, and a great visit to the Grand Canyon.
Next a drive to San Jose, California to visit family and collect some belongings, then north to Salem, Oregon to collect more things that needed to come with us and visit more family. After that we went farther north to Seattle, Washington, to see more family, then headed east through Idaho, to Montana, and today, through Wyoming to South Dakota.
So now for the "departure" – recommending something outside of Maine! I know, but you have to hear this…
We had no reservations heading for Mount Rushmore, so pulled out the ol' smartphone, and checked out area B&B's and found none (!) that took online reservations or showed availability. Because the area B&B's are spread out among a number of small towns, it wasn't feasible to just drive around to find one with vacancy, so we checked TripAdvisor for hotels near Rapid City, SD. The number one listing was a small motel, called Big Sky Lodge, owned by a nice couple, Jay and Alicia. The reviews were absolutely overwhelmingly positive. We found them to be right on the money. The rate was very inexpensive, the room a bit dated looking, but super-clean and comfortable, with cable TV and WiFi included. The view over the city is wonderful. Jay recommended the Colonial House (about a mile away) for dinner, and it is a family place, where many locals go, and the food was incredible, and very reasonable.
So… if you're going anywhere near Mount Rushmore, I can't do better than to recommend Big Sky Lodge and Colonial House Restaurant.
Meanwhile, we're on to Mount Rushmore tomorrow, then eastward…