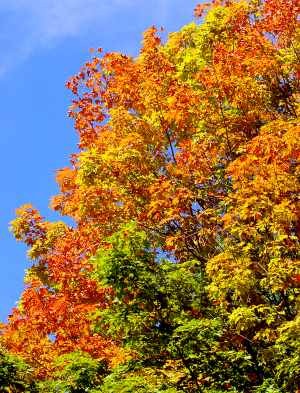 As we've noticed in prior years, our neighbor's maple tree across the street is always the first sign that fall is on the way. It begins to turn in August – well before the other trees, so it acts as a reminder to begin making plans to visit Freeport for fall foliage.
The most frequently asked question is "when is the peak viewing time?" The answer, for Freeport, is usually the first two weeks of October, with good foliage usually from the last few days of September through the end of October (sometimes even into November).
This year, however, because of the mild winter and early spring, all the vegetation seems to be a little ahead of schedule, so we wouldn't be a bit surprised to see the foliage be a week, or even two weeks, earlier than normal.
Will it be a good year for the colors? The factors that make a good year are a long hot summer with plenty of moisture. That's exactly what we've had this summer – gorgeous weather, but adequate rainfall, too.
Peak foliage is a moving target – with microclimates changing at different times. In general, the more northern and western parts of Maine turn color first, and the colors move southward and eastward. Of course, this is only a generalization, and specific areas will vary.
To make your foliage visit easy to plan, we are offering several versions of our Fall Foliage Surf & Turf special. The full special includes a booklet with information on the area and turn-by-turn self-driving tour of nearby foliage areas, two nights at Brewster House, a $100 shopping spree at L.L. Bean, a $50 gift certificate to Azure Cafe, a $50 gasoline card and a two hour cruise for two on one of Portland Schooner Co.'s antique schooners. The "Lite" version includes two nights at Brewster House, the same foliage tour and a $25 gas card. If you prefer to extend the full tour to a third night (there is a lot to see!), we will extend the full Fall Foliage Surf & Turf special for a third night for $100.
If you want to time your visit, and can afford to wait until the last minute (realizing that can make it difficult to find availability in small B&B's like Brewster House), you can check the progress of Maine's foliage on the state's foliage website. It will have foliage reports available beginning this week.