Now that July is past, and the prime time for an August getaway has arrived, the news media has begun to talk about summer "drawing to a close" and getting ready for "back to school."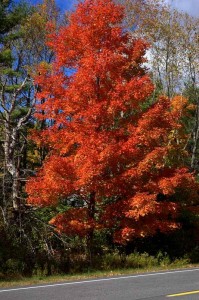 Here in Maine, it seems that summer has just begun. The guests at this Freeport Maine Bed and Breakfast have been happily touring lighthouses, visiting lobster shacks, and generally enjoying all that Freeport and the coast of Maine have to offer. And all these things will continue through August, and even after "back to school", throughout September.
That said, while the annual Maine fall foliage color changes won't begin until about the first of October, it is time to begin to make plans to see it. In addition to checking availability and selecting your room, you should consider just how you will go about viewing the fall color.
One option, of course, would be to just come up here and explore by seeing where the roads lead. Another would be to buy a guide book.
Our suggestion is to try our Fall Foliage Surf & Turf package. In addition to two nights at Brewster House, and Ruth's fantastic breakfasts (a guest today said it was the best breakfast he'd ever had), you'll also get a self-driving tour of some of our favorite foliage areas, with maps and turn-by-turn directions and commentary (we even include a lighthouse or two). But there's more! There is also a two-hour cruise on one of Portland Schooner Co.'s antique, Maine-built, schooners, so you can see the foliage along Casco Bay from the water. All this, plus a dinner gift certificate, an L.L. Bean gift card (and a gasoline card to help with the driving costs), and a Maine welcome basket with souvenirs.
With the Fall Foliage Surf & Turf package you'll see foliage by land and by sea!
This is not your ordinary fall foliage tour!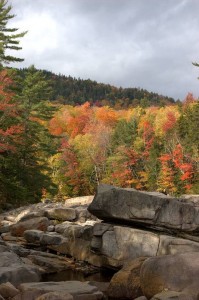 To expand your fall foliage viewing even more, you can also do as one of our guests did, and drive across Maine to New Hampshire, and enjoy the foliage along the Kancamagus Highway – which is absolutely breathtaking!
However you decide to see the New England fall foliage, we are here to help you with suggestions, maps and directions.
Don't miss it.