The official start of Maine fall foliage season has begun, as the state has issued its first 2011 foliage report, indicating there is a small amount of color in the northern part of the state, in the higher elevations.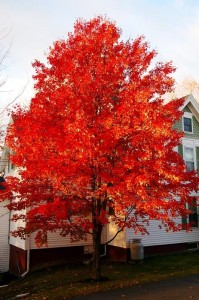 Based on our (very) unofficial historical observations, you can expect the colors to change in a pattern that moves from west to east, and from north to south. That said, there are almost always areas within one zone that are well ahead, or well behind, their neighboring trees. That is why, while "peak" in a particular area is ideal, there are micro-locations that will peak earlier or later than the rest of the zone.
The Maine Foliage site also includes historical foliage peak information, which can help identify the best times to visit. The state is divided into 7 zones (Freeport is in Zone 1), then the peak date is charted by date and zone here. This chart makes it clear that, even though there will be good color near our Freeport Maine Bed & Breakfast from late September through all of October, the actual "peak" is likely to be between October 15 and October 20, if the past 10 years are any indication.
Some have asked about damage from the recent tropical storm. There are a few trees that have lost their leaves – most likely due to salt spray brought inland by the strong winds – but their number is not significant, and will not have much, if any, impact on the foliage viewing for 2011.