No, not our gardens (though they do look really nice this year, and our back garden is about to get a facelift for summer) – the Coastal Maine Botanical Gardens in Boothbay, Maine.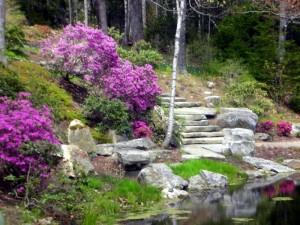 There is always something in bloom at the gardens, no matter the season. We love to visit in the late spring and early summer, to see the azalea and rhododendron and then the roses, viburnum and others follow along soon after. Of course, the summer is filled with color, but then the autumn brings the clematis, hydrangea, and daylilies. There are many more, of course, and the link above will help you decide what to see in any month you care to visit.
There are lots of special events, such as birding, photography, and, obviously, gardening events, throughout the year. Check the garden's calendar for specific events and dates.
The gardens offer childrens' programs, art and history programs, and various special activities and events.
Located near Boothbay, Maine, the Coastal Maine Botanical Gardens are only about a 30 minute drive from Brewster House. We also partner with the gardens to provide discounted admission tickets for our overnight guests. Please ask about admission to the gardens when booking your stay at Brewster House, or when you are here.
Ruth & Scott
Brewster House Bed & Breakfast, Freeport, Maine