During the busy season in Freeport, Maine (July – October), we rarely get a chance to do our own sightseeing. However, this past Sunday afternoon we did have a couple of hours, so we packed up some camera equipment and headed to one of our favorite nearby lighthouses, Portland Head Lighthouse.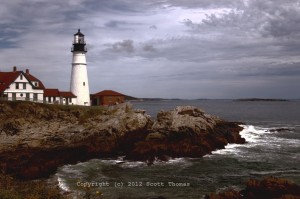 Last Saturday there was a bit of a storm, so we were hoping to see some nice cloud formations and waves. We were not disappointed!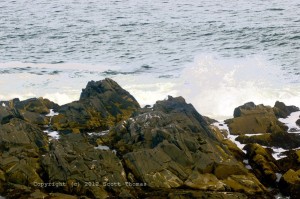 In one of the traditional photo location, just south of the lighthouse, you'll see (top) the clouds clearing just above the lighthouse. As we walked around Fort Williams Park, we also saw the large waves breaking on the rocks below the lighthouse (middle).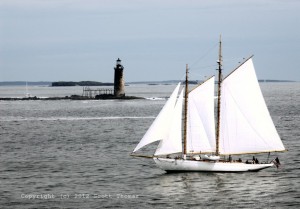 Then we were pleasantly surprised to see one of the antique schooners from Portland Schooner Company make its way past Ram Island Lighthouse, before turning to return to port from its noon sail (some of our guests were aboard!). Portland Schooner supplies the "surf" portion of our Fall Foliage Surf & Turf package!
All in all, a lovely day, some nice photos, and a good walk. You should try it!
Ruth & Scott
Brewster House Bed & Breakfast, Freeport, Maine