As we drive north on US-1 from Freeport, we often enjoy the views along the Androscoggin River, north of Brunswick's downtown area, and we see the walking path along the river. We regularly tell ourselves that "one of these days" we need to hike that route. This past Sunday was the day!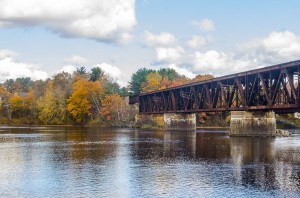 Railroad bridge across the Androscoggin River
Once the guests had left — some checking out to go home, others exploring nearby lighthouses and the Maine coast – we packed up the camera and drove the few minutes north to Brunswick, to hike along the Androscoggin River. To find the entrance, we had searched online and discovered that there are actually two different trails. One is the Androscoggin Brunswick-Topsham River Walk, crossing the historic swing bridge to Topsham, along the river, back across the busy Maine Street bridge, then along Mill Street to the swing bridge again – a distance of about a mile and a quarter.
However, our plan was to walk the "other" Androscoggin River Walk, without its own website, and a search discloses that the page on the Brunswick municipal website has moved. We remembered that we had been told the entrance was at the end of Water Street, so we drove there, and found ample parking, and headed north.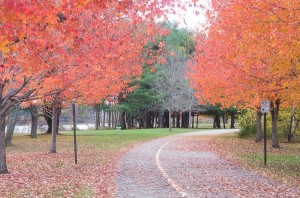 Remnants of fall color along the trail
The route is paved, with a dividing line to separate bicycles from pedestrians, and is marked in quarter mile increments to show how far you have come. The route is about 2.6 miles each way, so about 5 1/4 miles in total, from the end of Water Street to the end of Grove Lane, both of which have parking and access to the walk.
Most of the walk is along the river, so the scenery is lovely, especially with remnants of the fall foliage on many of the trees. Short bits are along US-1, which can be quite noisy, but you are soon back by the river, with a buffer of trees to diminish the noise.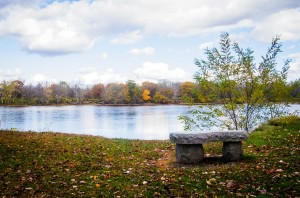 Stop and rest on one of the convenient benches
This is really a wonderful afternoon's walk, good exercise, not too challenging, as the hills are not many and not steep, but with wonderful views of the river.
Ruth &; Scott
Brewster House Bed & Breakfast, Freeport, Maine