With Hurricane Sandy bearing down on New Jersey as I write, there is a lot of media hysteria, even here in Maine, about the devastating damage we can expect from this gigantic storm.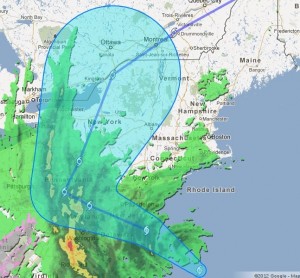 Naturally, we've been looking very closely at the weather reports, and it looks as though we're in for some high winds tonight, possibly gusting up to Tropical Storm levels, along with several inches of rain. With our high tides and the storm surge, this makes it likely that the lower areas of Freeport, and surrounding communities, can expect some flooding along the coast, and the winds make power loss likely.
Some of our wonderful guests have expressed concern, and while we are definitely taking a few precautions, our real concern is for our friends, fellow innkeepers, and all people in the path of the storm in the New Jersey, Pennsylvania, and New York areas, particularly, where the brunt of the storm is likely to hit.
Our thoughts and prayers go out to you all.
Ruth & Scott
Brewster House Bed & Breakfast, Freeport, Maine