Scott & Mary
Brewster House Bed & Breakfast, Freeport, Maine
Continuing the "relax at Brewster House" theme, it seems like the right time to share our latest addition to your get-away pleasure.
From the first day we came here, we thought it seemed a most natural pleasure that wine should be offered here. The French have an appreciation for the sybaritic qualities that wine brings to life and socializing, and it is in that spirit that we are offering a selection of ten tasty wines. The porch rockers lend themselves to a glass of wine, as do the garden Adirondack chairs in the garden, as does the newly refurbished salon!!
Our goal was to offer some less common (not grocery store wine) and very tasty wines, while offering a range of varietals and pedigrees. So, in the spirit of duty-bound inn-keepers, Mary and I sat with our man from Nappi last Thursday morning, and worked over 14 different bottles to decide what we're would start out offering you. We hope that you share our prejudices, and regret that you were unable to make the impromptu Brewster House tasting later that evening by the fire, in our newly updated back gardens. The guests who were here had a very good time with us!! I meant to use my camera, but never remembered to pull it out. It was a very tiring day!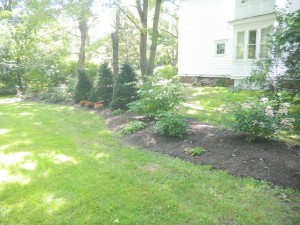 Within this group, there are two sparkling choices, a Prosecco and a Gloria Ferrer Sonoma Brut (champagne in France) for the many folks who come here celebrating a life event (honeymooners, anniversaries). We stock lower and higher end Chardonnays, a Pinot Noir, Cabernet Sauvignon, an elegant Merlot from Washington State, and on. We have an arrangement with our wholesaler where we can buy single bottles of any variety or vintage, so if you need something special and can give us a few days, we can likely get it! We intend what we carry to be fluid, based on your likes and dislikes, but really feel we're off to a strong start with the bottles we have here. The collection is priced from $16 to $33 (including sales tax), with a nice choice of reds and whites at the lower end of that range.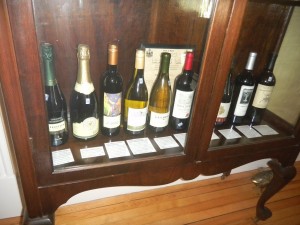 We keep the sparkling wines and whites in the frig, and the balance of the stock in the nice, cool basement. In the near future, we'll be modifying our celebratory packages to include a bottle of sparking wine. If you've been here, you know we have an ice machine and buckets for your convenience.
So, for whatever reason, if you need (or want) a good bottle of wine while you're here, you can get count on some great choices in-house!