Scott & Mary
Brewster House Bed & Breakfast, Freeport, Maine
You know, when I wrote that title, I was only thinking of my stunning motorcycle adventure this last Monday, but it certainly applies equally to our first 6 months here!
Mary, Siobhan, Ivy and I finally gave ourselves 5 days off this week after non-stop inn-keeping since the end of May.
Of course, Mary and I spent most of that time bettering our digs here in the carriage house, but we did squeeze in a little well deserved "R & R," as well as procuring a few dashing (old) new furnishing additions for your visiting pleasure.
On Monday, Bella (my black Italian motorcycle) and I headed north-east on Route 1 for some exploration and adventure.
I brought the good ole Nikon point and shoot to contribute to a book we will start this Winter on "Adventures Available" from Freeport, for your perusal and pleasure on visiting with us.
After several miles, the protected waters of Montsweag Bay started to appear between breaks in the spruce trees to my left.
Wow, what a place to have a camp or a home!
After 5 more miles, a state sign for Reid State Park appeared to my right.
What a lovely and diverse jem of nature!!
A lo
ng straight beach backed by an ocean meadow, and lovely rocky inlet to an interior bog.
A bus full of school kids in boots exploring the shallows, doesn't even notice Bella.
Gotta go there again with Mary and Siobhan!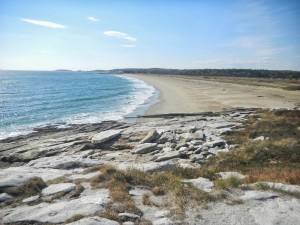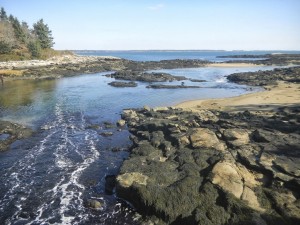 Back north on 127, we stopped to explore this sweet little cove, and take a couple of photos.
They used to build schooners here in the 1800's.
Fuzz your eyes up a bit and it's easy to imagine the sounds of cutting and shaping wood and the sounds and smells of horses and working forges!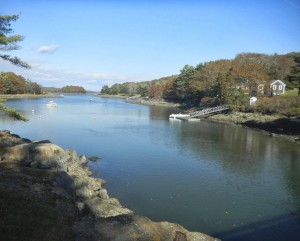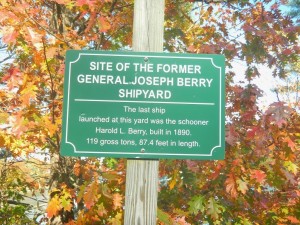 Back to Rt. 1, not a thrilling drive in the best of conditions, even less so with squally rain and gusting winds!
East to lunch via Wiscasset and Newcastle, then to Thomaston, just west of Penobscot Bay….to the Maine State Prison Store.
I think legend has it that the prison that used to surround the rear lot behind the rear of the store was the same prison that was a model for "The Green Mile," the Stephen King story.
The s
tore is deceptively large inside and includes everything in the way of beautifully crafted woodshop craft from wood trivets to large bookshelves, ships, end tables, great toys, chess boards and on!!
I think we're going back for a nice ash coat peg-board for our house.
As I go to leave and am getting ready to ride, my helmet gets blown off of the seat and rolls across the parking lot. WICKED P—–!! If you don't know, that's a particular New England expression of disgust…..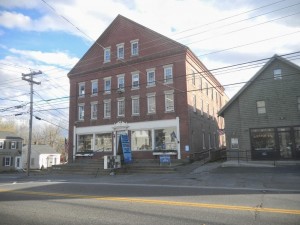 Drove back north through Jefferson, then back west to Gardiner and south along the Kennebec on rt. 24 to home.
165 miles from where I started, I'm approaching home and it's 47 degrees, and the sun is low on the horizon!!
Wish you were here, this was
one
fine Maine adventure
!!