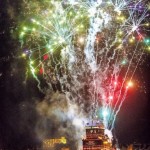 Portland Harbor's Holiday Boat Parade is always a struggle to pin down date-wise, but we now know it will take place on December 12th!
This is a spectacular annual event in which all sorts of Portland yachts, and working boats light up their rigging and tour the Harbor for your (& their) viewing pleasure. What a perfect distraction for some last minute Holiday shopping in Freeport!!
One of our favorite "ways to sit on your duff and enjoy Casco Bay" summer & fall options are the ferries of Casco Bay Lines. They are not only sponsoring this beautiful annual event (15th year), but are offering $10 tickets aboard one of their ferries to take in the Parade. Tickets are $10 and have been on sale since 11/27, so jump on board http://www.cascobaylines.com/maine-boat-tours/special-event-holiday-cruises/ and enjoy the ride. Parade begins at 4:45PM, ferries depart at 4:30PM. Casco Bay Lines offers Special events throughout the year, including for the 4th of July Fireworks, Fall Foliage and many musical events. I think you can bring a cooler as well, should your appetite or thirst overwhelm you while watching. You can also enjoy from the Maine State Pier, or one of the many Commercial Street waterfront watering holes, such as DeMillos.
Sign up fast, and by the way, Brewster House has a sumptuous suite left for Saturday, 12/12 and several rooms open for Friday, 12/11!! Wow, maybe dinner reservations our in Portland after the Parade?? WISH WE COULD GO!