March 18, 2021 by Kelleigh Dulany
Got some great news!!…effective immediately, Massachusetts, Rhode Island and Connecticut residents are welcome in the state without a testing or quarantine requirement.  The same is true for travelers that have been fully vaccinated  or recently recovered from the virus.  Then, as of May 1, travelers from all states are automatically exempt unless otherwise determined by the Maine CDC.
Here at home we are getting ramped up to welcome back favorite guests and meet new ones.  Restaurants are able to increase capacity in the coming months, although mask mandates and cleaning protocols are still in affect.  I'm hopeful that more public attractions, musical performances and the like will also start to see a lifting of restrictions.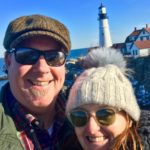 Still dreaming of your Maine getaway?  Long for the fresh air and blue skies?  Portland Head Lighthouse is just south of us and of the most photographed.  It also happens to be one of our favorite rooms (#6) here at the Brewster House.    This King Bed Suite with companion room (featuring a pull out couch) offers 'breathing room' for a couple and flexibility for a family of 3.
The Portland Head Suite
is especially suited for college visits.   Whether you're touring prospective institutions or visiting your co-ed, the Brewster House we are conveniently situated near Bowdoin College and a short drive to Bates, Colby, University of New England as well as the Maine College of Art and University of Southern Maine.    And just to sweeten the deal, we love to invite your special family member to join for breakfast,  that is if your student is willing to get up before 1p.:)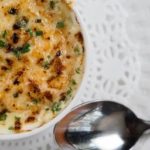 Your Lighthouse Adventure Awaits, 
RESERVE
your favorite Lighthouse Room today.
November 19, 2020 by Kelleigh Dulany
This year the arrival of the holidays feels like a mix of joy, angst and sorrow.  The COVID pandemic is still here, something we would have never predicted back in March.   Sadly, it hangs on and showing little signs of a turn around especially heading into the winter months.   Our hearts go out to those that have suffered physically or lost a love one from this horrible disease.  Thankfully our family has remained healthy;  for that we are going to rejoice in the spirit of the holidays.  Yes, Dave has already started his turkey brine & delicious gravy for Thanksgiving,  Yes, I've started the somewhat daunting task of decorating the Inn.  And Yes, the kids have already asking after Elf on the Shelf and if Santa has to follow any travel restrictions and 'have to quarantine?"  So YES! We're still here!
Holidays in Freeport
But the show, Sparkle Celebration, must go on! and Freeport will be aglow this season.  LL Bean's Northern Lights display is always a fan favorite with its festive photo ops and "Holidays Around the World" interactive walk; the Talking Tree will come to life and delight young and old; plus the Stealth Elf will be roaming the streets surprising intrepid shoppers with Gift Cards (Last year that was over $2500 worth) to local businesses.
Room at that Inn
Travel restrictions are still in place.  So visitors from states other than New Hampshire, Vermont and Maine must have a negative antigen test no more than 72 hours from arriving to Vacationland.  Our cozy fire place rooms await for your shopping, outdoor or simply relaxing respite.  RESERVE YOURS TODAY
Shop Small Saturday Gift Offer
We get it.  For many of our future and past guests, travel is just not an option right now.  So that doesn't stop you from dreaming and planning for your Maine vacation in 2021.  Our Shop Small Gift Card offer runs through December 1st.  Every $500 Gift Card comes with a $50 bonus for you to enjoy local dining, as a "tab" for BigBrewstah, or maybe its that special Brewster House mug set to take home with you to savor the memories. Gift Certificates for $250 enjoy a complimentary flight of craft beer or bottle of Prosecco with the stay.  Give the Gift of a Maine getaway with us in 2021! …. ORDER ONLINE or contact us directly to craft the perfect present.
October 1, 2020 by Kelleigh Dulany
No doubt you've grown tired of all the travel restrictions thanks to COVID, Us too!  But you've got more reasons than ever to venture to Freeport.
Fall Foliage Peaking – Late summer drought conditions have accelerated our leaf peeping here in Maine.  So hurry and book your stay and take in the beauty..you deserve it!  And Enjoy our 3rd night for 50% off special when you book your stay midweek.
Makers Market October Saturdays –
Shopping has always been a big attraction for Freeport.  LL Bean anchors the village but you'll want to pay a visit to the Makers on Maine Exhibits that are featured every Saturday through October 10th.
Early Bird Shopping Saturday, November 7th. Early bird shopping used to be reserved for the intrepid shoppers that set that alarm clock and braved crowds and the streets at 6a for exclusive deals.  This year the deals will be had even if you hit the snooze button.  Reserve a 2 night stay with us and we'll treat you to that coffee recharge at Coffee By Design AND a celebratory toast at your Tuscan Brick Oven Bistro lunch.
June 3, 2020 by Kelleigh Dulany
You know the expression, "Every cloud has a silver lining"?  I can confidently say that COVID 19's lining was our deeper discovery of the great Maine outdoors and all the ways to appreciate it.   When home schooling was coupled with "shelter in place", things got a little dicey around here… three kids, one chef and one innkeeper makes for quite a combo. But we have managed to turn the events into a positive and want to share what we've discovered with all our guests.  We finally understand why everyone wants to come to Maine to really relax. Our state is simply gorgeous. We enjoyed many activities, but here are our top five things to do in Maine during the shutdown.
GEO-Caching has given us reason to discover lots of lesser-known and therefore more social-distanced hiking around our area.  Armed with a great App and a sense of adventure, this exploratory "sport" offers fun for all ages and a real sense of accomplishment, especially when you find the 'micro' ones!!!  Ruby's got 21 finds in just the last couple months!
Fly Fishing has been a slightly elusive hobby for Dave in years past.  Usually an early morning cast is out of the question after mid May.  But well, he's got COVID to thank for some unexpected time on the water. And you can benefit from all his intel on great spots, fly-tying and other skills he's been honing.
Biking: For those of you who don't know me, cycling has been a long time passion.  Frankly one of the big parts of enjoying our relocation to Maine (from New York City) has been the enjoyment of so many great roads with FAR less traffic.  Well, you can imagine the joy I felt when Ruby joined the two-wheeled ranks partially due to all the biking she and I did around town during quarantine.   Ruby can share more about the best roads in and around Freeport, and I'd be delighted to point you on a 10, 25, even 40 mile scenic routes right from our door. They can take you past beaches, farm stands, rolling fields and great coastal vistas for a ride that will long be remembered even after bike is put away.
Cooking – Dave has mastered his art of twisting challah, hand rolling bagels and the countless ways to enjoy sourdough during the pandemic and I've been the lucky taste tester! He's always been a great chef, but the secret steps he's developed for this are amazing. (In fact, we'll be offering limited, small – of course appropriately socially-distanced – classes this summer.  If you want to get put on the mailing list when notices come out CLICK HERE.) The only thing better than the  joy of baking from scratch, enjoying fresh food is eating it.
Finally our fifth wonder of the quarantine is realizing all the Freeport things we love – and missed –  during the shut down. We were so excited to learn that
LL Bean has re-opened! The megastore may be operating a little differently – no 3 am shopping 🙁 but it's so good to have this anchor neighbor up an running again. They always help everyone get outside with confidence, and are ready with all your gear needs.
The Tuscan Brick Oven Bistro has also expanded its outdoor dining seating and they have fantastic curbside pickup offerings that can be enjoyed at your own personalized table in our dining room.
Right now all these opportunities are available only for our fellow Mainers. Certainly it's a great time to explore our state – crowds are small and opportunities wide. But when restrictions are lifted we look forward to again welcoming our out-of-state guests. It's silly it's taken a shut down for us to realize all the wonder right in our community, but our perspective has been refreshed and we'll happily share all we've seen and explored locally when you stay with us at Brewster House.   Ask about a special picnic lunch prepared in advance by Dave so you can get up, get out and get active and avoid the added stress of where and how to fuel up!
RESERVE your deluxe accommodations today.  We're hard at work to make your stay safe, healthy and relaxing: LEARN more and reach out if you have questions or concerns we can address.
May 20, 2020 by Kelleigh Dulany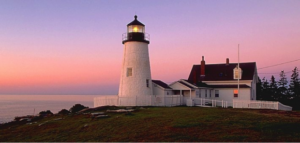 After quarantining for months, the sheer joy of getting out of the house can be at times overwhelming.  But then reality reminds us of the many months we've sheltered safely at home and how precious an escape away truly is.  Here at the Brewster House we take your health, safety and enjoyment very seriously.  Travel this summer promises to create special memories. We are the place where you can unwind, feel safe and enjoy a getaway. ………..but only when you feel you can truly relax.
As of July 1, we are delighted to welcome Mainers , New Hampshire & Vermont travelers without impediment, visitors from outside of the trifecta are welcome also but asked to adhere to the state's Certificate of Compliance*.  This document is furnished after you have reserved and collected upon check in.
We've spent the last months looking at every facet of our home to create an environment where you, our guest, can experience Maine's beauty because your stay is in a clean and trusted surrounding and we continue to keep pace with the safe standards and guidelines set forth by the state health authorities.
But as of right now, when you escape to the Brewster House, here's what you'll find:
Reservations:
A maximum of 4 Rooms available to book with no more than 2 rooms per floor occupation.  The only exception being whole Inn reservations available for one party at this time if requested.
Guests will be asked to restrict movement through the Inn in an effort to limit interaction with fellow guests.  A "trail map" for entering & exiting guest rooms will be provided to support effective social distancing.
Self Check In:
Guests will be greeted in advance of their stay with comprehensive email instructions in order to unlock the main door, locate their room, key inside, and review the aforementioned "traffic patterns."  Keys will be found in the room upon check in.  Our new TouchStay APP will also be shared prior to arrival; it's filled with great advice on recreation, dining, and sightseeing along with directions to our home and lots more.
Full payment will be requested at time of check in and ideally conducted via online processing.
On premise Dining & Meals: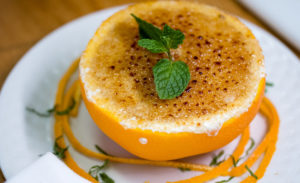 Guests will receive a personalized table assignment for their entire stay.  Guests may use this table to enjoy their breakfast and take-out meals they have obtained from local restaurants.   The linens & table ware are changed daily.
Guests who don't want to enjoy our 3-course breakfast served at their table can opt for our BH 'to go' breakfast.  It will feature a warm bakery option (e.g. muffin, egg and cheese sandwich) and yogurt parfait with fresh fruit & granola along with single use utensils & napkins.  This breakfast will be delivered to your door.
We will continue to offer beverages from either our 'wine cave' or bigBrewstah kegerator but will need to call the innkeeper for assistance.   A special Growler size and flights are available upon request.
Guests are asked to NOT congregate the Inn's common areas for extended periods.
During this phase, guests are permitted to read or relax in the parlour but should respect social distancing and will be required to wear facial mask as a courtesy to other guests if social distancing is not possible.
Housekeeping:
During this critical time, no room refreshes will be offered.  You are encouraged to call or text to request additional amenities needed (ie. Soap, Shampoo, Keurig coffee, or a change of towels and trash removal).
Prior to arrival, rooms will be thoroughly cleaned.  To reduce the risk presented by contact surfaces,  our guest book delivered via a highly intuitive and easy to navigate APP.  Maine Craft Distilling Hand sanitizer & alcohol swabs will be offered in each room for liberal consumption.
Upon departure, rooms will be blocked off for a minimum of 24 hours.  After such time, our housekeeping staff will clean and sanitize the room taking all personal precautions (face mask & gloves) and EPA approved cleaning products in order to put the room 'back into inventory.'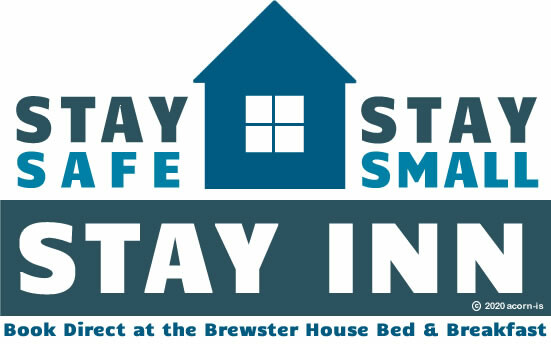 CHECK AVAILABILITY and inquire about our
"Inn Takeover" Reservation offers, weekend packages and more.
April 21, 2020 by Kelleigh Dulany
Cleaning; Baking; Brewing, Homeschooling, Exercising and to be perfectly honest…Drinking are on a loop here at the Brewster House.
As we anxiously await good word from health authorities that travel restrictions can be lifted,  it can be hard to distinguish one day from the next.   Despite the uncertainty, we're staying positive: cherishing the quality time with the kids (yes, between refereeing sibling quarrels and meltdowns over schoolwork we've managed to find fun!);  appreciating the extra time to make sure everything will be tip-top when the Brewster House reopens and especially marveling at the show of love & support we've seen among our friends, family, beloved guests, neighbors and our industry colleagues.
Life in Freeport differs so much from our former New York City, of course.  But there are daily examples of community pulling together to help families in need with food, shelter & emotional support.  These acts of kindness may have changed in size & scope but they are all truly uplifting.
Looking to the Future
The roller coaster of when we can get back to 'normal' is exhausting.  As soon as I get resigned to one date, another estimate leaves me gasping for air.   May 15th is tentatively slated for the travel restrictions to lift but like life today, always subject to change.
Although a few guests cancelled their reservations due to travel constraints, more have opted to shift their dates hoping to see Maine's beauty in the late summer and fall.   Many guests have generously let us hold onto their deposits which we'll apply when they reschedule, while others have seized the opportunity to enjoy the GIFT CARD incentive we're pleased to extend to all our guests- current & future. We're so appreciative for this support of our small business.
Simply put, we are staying the course here- applying for help from the SBA to weather this crisis but also using this time to deep clean every surface of the Inn's common areas & guests rooms including furniture, fixtures and linens.  Dave even took his culinary & brewing talents one step further by making our new, house made hand sanitizer!
In anticipation, we've put a few new programs in place for your safety, but also thinking creatively as we adjust to the new norm.   Do know your business is always appreciated.
Here's a sneak peek….with more to come:
Reservations made from now until May 31st will enjoy free cancellations (waiving our standard, credit card $25 processing fee) with a 7-day notice*
Special "No Breaky" Rates designed to encourage you to rest, relax and get out to enjoy the great Maine outdoors
Stays of 3 nights or more (during the months of June & July) will enjoy a complimentary room upgrade, when available
Extended hours & Staggered breakfast service to offer guests greater space while dining
Rent the entire Brewster House, grab your friends & family and invite them to "Meet INNperson." You've been toasting via FaceTime and Zoom for too long- do it in person and with the comfort of a smaller gathering of just your friends & family for 30% off!   Ask us about private group dinners, hands on cooking classes, a complimentary bottle of Prosecco upon arrival and more exclusive fun with only your closest pals all under one roof.
Reach out today to discuss your upcoming reservation, reserve your summer stay and/or consider supporting our small business with our GIFT CARD offer.  We'll be here …anxious to reacquaint all with BigBrewstah, Dave's gourmet breakfast, and fresh baked cookies in the comfort of our home.
Now excuse me as I need to rescue a younger sibling from her brother….
November 19, 2019 by Kelleigh Dulany
The holidays are a particularly special time to visit our village- it's called Sparkle Celebration after all.  LL Bean, Visit Freeport and many local retailers put on quite a show from the Parade of Lights kick off featuring the arrival of Santa down Main Street aboard a yacht, to the Talking Christmas Tree, live reindeer, LL Bean's Northern Lights display, holiday shopping, live music, food & wine tastings, arts & crafts and lots more all around town.
You can holiday sho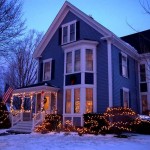 p anywhere…but why not make it a truly special weekend of it with a stay with us.  Fresh baked cookies upon your arrival, Maine craft beer on tap 24/7 and a delicious 3 course breakfast every morning.  Spend your days exploring!…be it the great indoors for the perfect holiday gift or the great outdoors at one of several start parks.  Then take in the live entertainment with the Freeport Community Players performing The Home Time Radio Hour or check out the acts featured at Cadenza from tributes to John Mellencamp to Susan Tedeschi to Motown and more.
The celebration spans TWO weekends in December.   Don't take our word for it!..Experience the beauty of New England at the holidays for yourself.  Hurry...reserve your fireplace'd room today
August 12, 2019 by Kelleigh Dulany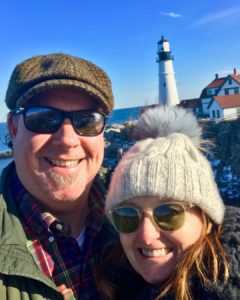 Lighthouses & Lobster in Maine- the most talked about topics with our guests that never get old.  Dave and I share the love of these two iconic and very Maine specialties.   First up, Lighthouses! …Maine boasts over 60 standing lighthouses across 3,500 miles of shoreline crammed into 280 miles of coastline.  Some big, some small and all photographed countless times.  Here at the Brewster House we love lighthouses so much we named our rooms after them.  Yup, from Cape Neddick and Cape Elizabeth to Marshal Point and as far north as West Quoddy.
Read the rest of this page »
August 1, 2019 by Kelleigh Dulany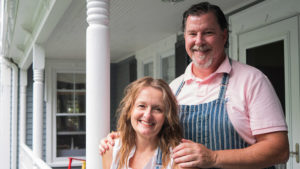 "What a big change!" A common quote from our guests when they hear we moved from the 24/7 hustle of New York City to the quiet charm of a small, New England town in Maine.  And they are right, the move has brought lots of change like restaurants that close before midnight, having only one deadbolt on the door, and the almost certain event of running into at least 3 friends on any particular visit to the local grocery. But the thing that is inspiring and important about both our most recent homes, the very long and rich history they both possess.  Our former home was a turn of the century mid-rise apartment in Harlem and our new home is another turn of the century, this time 19th!, Victorian with many of the original details still in tact.
Read the rest of this page »
February 12, 2019 by Kelleigh Dulany
Cycle Maine this May to get ready for your summer events!  As a former New York City cyclist (shout out to CRCA.net & nycc.org) I was downright giddy on my maiden voyage here– hundreds of miles to explore and relatively light motorist traffic sharing the road. You'll delight in all the options to explore our beautiful coast and build up your base.  Just ask for some of my favorite routes leaving right from our door.
Read the rest of this page »