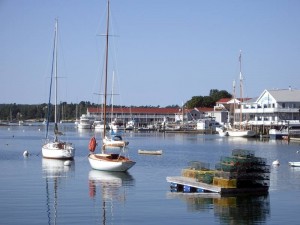 1. BOATS– In our view, if you really want to appreciate Maine (or at least our part of it), there is no substitute for experiencing our gorgeous coastline, islands & peninsulas on a boat. Whether that be the Portland Water Taxis, Atlantic Seal Cruses out of Freeport, an antique schooner trip,  the experience of where the land and water meet is intoxicating! If you have the time, spend the day cruising out of Boothbay or New Harbor to Monhegan. It's 8 or 10 miles offshore, high, windy & naturally stunning with huge cliffs and puffins nesting in them, populated by a few hardy fishermen, and a thriving year round artists colony, and a 100+ year old hotel. One fabulous breather!!
2. BEACHES– Maine has some beautiful beaches, as different in character from each other as the far reaches of our huge State! South of Portland, there are several long sandy stretches, from the black long sands of York, to the white beaches of Wells, Ogunquit and Old Orchard Beach. In Freeport, we have our own Casco Bay facing beach at Winslow Park, and at either end of the Kennebec River two stunningly wild, different and unspoiled State Parks including both Popham Beach on the west, and Reid State Park at the east end of the River.
3. LIGHTHOUSES– There at least five of these within an easy drive of Freeport, including Cape Neddick Light in York, Goat Island Light on Cape Porpoise, and the Portland sisters, Cape Elizabeth (or Two Lights) and the photogenic queen, Portland Head. Less than an hour east of here, you'll find the Pemaquid Point Light, sitting on a huge striated, slanted granite ledge that can only be described as breathtaking! DON'T MISS the lighthouse boat tours of the Kennebec lighthouses offered by the Maine Maritime Museum either (see link in "Museums)! We have specials at Brewster House built around these explorations!
4. OUTDOOR ADVENTURE– Wow, this is a HUGE category!! I'd put such diverse items in this box as kayaking, bicycling, golf, white water rafting (see Kennebec, Dead & Penobscot Rivers) Northern Outdoors, hunting, fishing, cross-country, Discovery Outdoor Center, ziplines and downhill skiing, mountain-biking, ATVS, snowmobiles…..and so on!!
5. RAINY DAY?– Museums such as the magnificent Maine Maritime Museum in Bath , Portland Art Museum, the Joshua L. Chamberlain Museum  (the man who saved the Union Army at Gettysburg), or the Sabbaday Village on Rt. 26 where you can experience a still active Shaker village and their magnificent furniture and handworks, or check out the DeLorme Maps store and 30' globe 5 miles south on Rt. 1!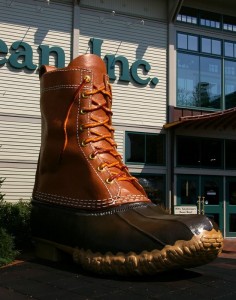 6. SHOPPING, ETC. – This one is obvious; Freeport being the center of the LL Bean Universe, (5 separate stores) and all of the surrounding outlet stores is 3 blocks south of Brewster House! Kittery and its outlet stores are about 40 miles to the south. If you're of the gambling persuasion, there is the Oxford Casino, about 30 miles northwest on Rt. 26 too (1/2 mile paved racetrack nearby)!
7. EATING– Again, HUGE category, Freeport has a pretty high food bar, as well as the adjacent towns – Brunswick & Bath! Portland has really become elevated as a "Foodie" center of the east coast. Pahk your cah at Congress Square in Portland and check out the amazing choices of cuisine, or head to the waterfront for ATMOSPHERE+!! Obviously, seafood and fresh local meat and produce is a big part of that program. Check out our neighbors at the Azure Café.
8. DRINKING – Many, many choices for wine, beer or martini lovers within a very short drive!! For beer in Freeport, check out The Maine Beer Company or Gritty's McDuffs. Both microbreweries, and Gritty's is a pub style restaurant as well. There is a relatively new "wine bistro" in Freeport, very popular among locals (yes, we're working our way there too!) called "Conundrum". Last summer, some guests from Georgia shared their fabulous experience with "Wine Wise Events" of Portland, who does wine tasting cruises, restaurant samplings and other really fun such imbibing adventures ! I'll be talking more about Christa's company soon.
That should get you stahted this summah!!