Admittedly, Spring can be a challenging time to attract folks to come to Maine (or anyplace else in Northern New England), but let's face it, you crave a change of scenery and being spoiled at Brewster House is always a gift, so check out these six amazing Maine spring flings!
We'll open with "high culture," the Maine State Ballet Theater company is putting on the classic, "Sleeping Beauty" from April 1 – April 17th.
http://www.mainestateballet.org
. The theater is on Rt. 1 in Falmouth, only 10 or 15 minutes south of us.
The Portland Home Show opens on April 8th and tuns through the tenth. For more information click, HTTP://www.homeshows.com.
There are some amazing photographers and subject matter for them in Maine! The Boothbay Region Art Foundation is presenting the renowned Maine Photography Show, running from April 9th – 29th. For details, see http://www.mainephotographyshow.com.
We love the little City of Bath, and aside from my favorite museum (the Maine Maritime Museum), another great reason to visit Bath will be the Bath Antique Show & Sale, held on both March 13th, and April 10th. To learn more, check out http://www.bathantiqueshows.com.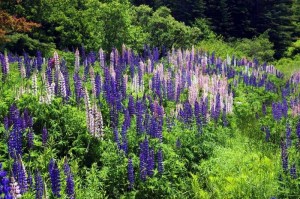 An easy 40 minute ride east of beautiful Rt. 1 through beautiful Brunswick, Bath and Wiscasset, a MUST DO for those gardeners/ landscapers in the room, the Maine Botanical Gardens reopen for the season on April 15th. Believe it or not, they have over 35,000 bulbs, among their 270 acres of shoreline and other dazzling plantings, they will be emerging for your visual and olfactory stimulation. http://www.mainegardens.org.
Also in Falmouth from May 6th to 7th , something Mary will be up for, is the Falmouth Kitchen Tour. A fabulous idea whether you're re-doing your kitchen, or or just a kitchen voyeur! http://www.mainekitchentours.co
Of course, we've sweetened the pie with our Spring Serenity special, 3 nights for the price of 2! Come, let us pamper you in ironed sheets and breakfasts that will dazzle your tastebuds,while you slide into Spring! https://brewsterhouse.com/specials-and-packages/offers/spring-serenity-buy-2-nights-get-1-free-special/Tags: Freeport, Home & Garden, Spring
Posted in boothbay harbor, Brewster House News, Freeport, photography, Spring, spring weather | No Comments »
September 25, 2012 by Kelleigh Dulany
Boothbay Harbor is a wonderful day (or half-day) trip from Brewster House, and it is only about 45 minutes away!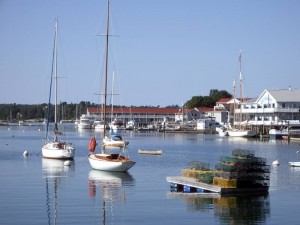 Boothbay Harbor
After finishing your wonderful breakfast in our dining room, take US-1 north in front of the house, and pass through Brunswick, Bath, and Wiscasset, then just across the river and up the hill you'll see the sign to turn on Route 27 for the "Boothbay Region."
The drive is scenic, with plenty of lupine to view in the spring, and foliage in the fall. The road winds through farmland and villages, passing through the village of Boothbay, and on to Boothbay Harbor.
Once there, you'll find wonderful local shops with everything from tourist souvenirs to clothing to home decorating and even art galleries.Add to that charming restaurants, a lovely public park by the town dock, and a footbridge across the harbor, where you can walk to the Lobster Dock restaurant and view the town from the other side of the harbor.
The harbor is filled with islands and boats – fishing boats, whale watching tours, and pleasure boats. It is a photographers' dream! Especially at sunset (or sunrise!).
Treat yourself to a delicious ice cream cone at one of Maine's best ice cream parlors, before heading back. You may want to take a side trip to East Boothbay to admire the views, or to Southport Island and Newagen, where you can see a bit of the Maine coast, "up close and personal," as they say.
In Boothbay (about 2 miles from Boothbay Harbor) you can also stop at the Coastal Maine Botanical Gardens, where beautiful gardens are always in season!
Boothbay Harbor is one of our favorite things to do near Freeport!
Ruth & Scott
Brewster House Bed & Breakfast, Freeport, Maine
July 26, 2011 by Kelleigh Dulany
One of the favorite day trips from our Freeport Maine Bed & Breakfast is a trip to Boothbay Harbor.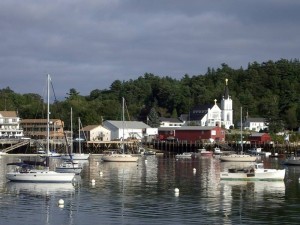 Often described as a classic Maine working harbor, you'll find lobster boats, fishing boats, and, of course, boats for excursions to go whale watching, tour lighthouses, and more.
As you finish your breakfast at Brewster House Bed & Breakfast in Freeport, Maine, turn left from our driveway on Main Street (US-1), and enjoy the drive through the countryside. If you get an early start, you may see a moose near the "Moose Crossing" signs just north of the town line.
Continue past Brunswick and Bath, and pass through the lovely village of Wiscasset, where you may want to return later for a lobster roll at Red's Eats, or a browse through the many antique stores, or just to enjoy the charming beauty of the riverside village.
After crossing the river, you'll come to a hill, and as you near the top, the sign says "Boothbay Region" to the right. Take Route 27, and enjoy the leisurely curves of the smaller road, out the peninsula. You'll pass the Boothbay Railway Village, where you can learn some railroad history, or ride a small train. A bit farther along is the tiny village of Boothbay. Just down a side road from Boothbay is the Coastal Maine Botanical Garden, with its beautiful water views and spectacular flowers and plants.
Returning to Route 27, continue into Boothbay Harbor. Entering town, the road becomes one way, and and is uphill from the town. This can be a good place to park, as parking is limited near the shops. Down the hill are the shops – some touristy, some local, some interesting. There are also art galleries and restaurants along the street and near the water.
Walk down to the waterfront, where you'll find a small park and the public dock, where you can enjoy an ice cream cone, and watch the boats come and go. Across the water is the Lobster Dock restaurant, as well as several lobstermen's landing areas, so a good place for lobster awaits.
When you finish enjoying the beautiful area, return once more to Brewster House for snacks and dinner at one of the Freeport restaurants, then a browse through the Freeport outlets. A nice day out!