It's here!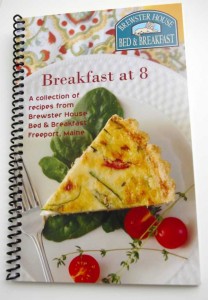 We've been writing for a few weeks about the upcoming release of Breakfast at 8, the Brewster House cookbook, and it is now back from the printers, full of bed and breakfast recipes, and is almost ready to go!
Whether for a special breakfast (some of our guests like to use these recipes for Christmas morning, or other special occasions), or for just a special breakfast on a quiet weekend, there is something for everyone in Breakfast at 8. In addition to loads of selections of sweet and savory main breakfast dishes, there are plenty of fruit starters (many of which make wonderful desserts in the evening, as well), scones and muffins, cookies, and more!
Those who pre-ordered will be receiving their copies as soon as we can get the shipping materials together (we expect to begin shipping by about April 10). New orders will go out as quickly as possible after the pre-orders.
If you haven't ordered your copy, you can use the convenient shopping cart at right (you'll be taken to a secure area using Google Wallet to put in payment info), or on our website's gift shop page.
[ OUR APOLOGIES for any inconvenience, but we are sold out of our cookbook, and the new owners of Brewster House do not have copies for sale]
We hope these recipes will bring you as much enjoyment (and good taste!) as they have for us!
Ruth & Scott
Brewster House Bed & Breakfast