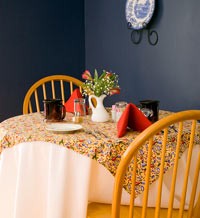 What is that title about? At Brewster House Bed & Breakfast in Freeport, Maine, we're advocating truth in advertising!
A week or two ago the California Association of Bed & Breakfast Inns (CABBI) released the results of a study, asking travelers their perception of staying at bed and breakfast inns. The results revealed some interesting myths about staying in B&Bs. This link is an article listing the findings, and the myth-busting replies.
The list includes decor, shared bathrooms, breakfast seating arrangements, curfews, and whether or not children or pets are allowed. But are these really problems? We know some guests who prefer separate tables for each group of guests, and others who love the interaction of a single dining table. Some like a more modern style of decor, while others revel in the historic accuracy of period decor.
Stepping back a bit from the results, it really looks like the concern isn't so much what the travelers say about the B&Bs, but what they don't say. That is, they seem to be concerned that they just don't know what they are going to get when they choose a bed and breakfast.
In truth, our experience indicates that bed and breakfast inns are as varied as their locations and the personalities of their owners. Some are themed around the surrounding area or its history, like one we know in an old bordello, or railroad cars, and others are very formal, in keeping with the mansions in which they are located. Some are quite casual, reflecting the attitude of the innkeepers, and some are less so.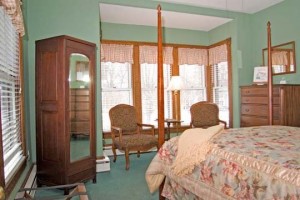 In these days when the internet provides the opportunity for inns of all kinds to put their best foot forward, showing accurately what the guest can expect when they stay at that property. In fact, there really is no excuse for not showing the prospective guests exactly what they can expect, whether it is wallpaper or paint, doilies or not, separate dining or family style, etc.
With all that in mind, we want to make it clear what you will find when you come visit Brewster House. We invite you to look through our web site, explore the photos of the rooms, look at the virtual tours, and really see what we have to offer. Here's what you'll find:
No doilies or wallpaper, and no patchwork quilts. Our rooms are painted (we have no wallpaper) with soothing colors – some relatively bold, some softer, with coordinating paint in the baths. Most of the beds have rich, designer, comforters, though a few have designer quilts. We do have antiques in the house, mixed with more modern furnishings, as well.
We have no shared bathrooms. All our rooms have baths in the rooms (that is, the bathroom is entered from inside your guest room, and not shared with other guests). In our two bedroom suites the bath is a pass-through between the two bedrooms, so it is shared by members of your own party, not with other guests.
You do not have to sit with strangers at breakfast, and dietary restrictions can be accommodated. We think our dining room has the best of both worlds. It has individual tables (most are for two, one is for four), so you sit with your own party, but the other guests are not far away, in case you would like to have a friendly conversation with them. We serve a set breakfast each morning, usually alternating between a sweet dish one day and a savory dish the next. We routinely ask about dietary restrictions, and can nearly always select something from our repertoire of breakfast dishes that will meet your needs.
We have no curfews. Each guest is given a room key which opens their guest room, but also opens the guest entrance to the house. Thus, while our check-in time is from 3:00 p.m. to 9:00 p.m. (and we can make arrangements for late arrivals, if needed), guests who have checked-in have no curfew and can come and go at any time using their room key for access to the house.
Not only for couples. It is true that most (by a good measure) of our guests are couples. However, with our two bedroom suites, we also often have either a group of four traveling together or a family, staying with us. Maine does not allow lodging properties to refuse accommodation on the basis that the guest is accompanied by children. In compliance with this requirement, we welcome well-behaved guests of any age. We do ask that guests with children be considerate of other guests, and supervise their children at all times, being aware that most of our guests are here to enjoy a quiet, romantic, getaway, often as a time away from their own children.
Each bed and breakfast makes its own decision whether or not to allow pets. At Brewster House we have a number of guests who are allergic to animal fur and are very sensitive to the presence of animals. Consequently we do not allow pets. However, there are excellent boarding facilities nearby, as well as other properties who do allow pets.
Whether you are traveling to Freeport, Maine, or anywhere else, you can almost certainly find a bed and breakfast where you will be welcomed like an old friend, with comfortable surroundings, a wonderful breakfast, appropriate levels of privacy and all the help you need for recommendations of restaurants, activities and directions. Look for a B&B for your next getaway!