Scott & Mary
Brewster House Bed & Breakfast, Freeport, Maine
Autumn chill driving you to play inside?? Don't miss this great southern Maine regional FOODIE/ WINE extravaganza!
This annual event is an amazing combination of chefs, restaurants, wine and beer tastings, music and ethnic culinary opportunities spread over 4 days, starting on Wednesday, Oct. 23rd. The Celebration opens with the Grand Tasting on the Harbor on Thursday evening, mingling guests with Maines' best restaurants, chefs and pairing the right wines and beers with their finest creations!
Thursday at noon opens the Maine Lobster Chef of the Year competition, followed by, International Maine: Taste of the World, which aims to demonstrate the range of cuisine offered here by featuring the premier local Chefs offering their most diverse ethnic delicacies.
The Wine Tasting Experience and Beer Tasting Experiences will take place on Oct. 25 at 5 and 5:30, respectively in the Oceanview Room and Oceanview Pavilions, closely followed at 7PM by the Blues & Brews BBQ in the Pavilion. Groove to your favorite blues tunes, while loading up on barbeque and your favorites beers!!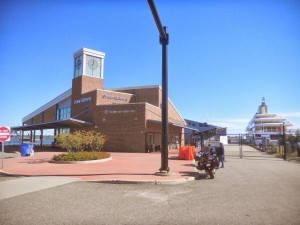 Sunday brings the event wrap-up with two sessions (starting at noon) on Casco Bay with 160 Maine food, wine, beer and distilled beverage artisans sharing their delectables with you along the waterfront.
For great detail, see www.harvestontheharbor.com.
I took Bella there today (& a glorious one it was) to scope out the site (note David Geffen's 153′ motoryacht on the right side of the photo) Right on the waterfront, by the cruise-ship dock!! How much better does life get??
As I speak, we only have rooms open for Wednesday and Thursday, but cancellations do happen, and I can wait list folks.