April is a great time to review the three magical summer sea packages we offer at Brewster House to make your Maine vacation uniquely special! Since most folks come to Maine with our great and magnificent oceanfront at the fore of their imaginations, let's start with lighthouses, boats and beaches.
Lighthouses have to be the #1 draw for non-local visitors to Maine! Their lonely, rugged visages, and history of drama and life-saving must be the basis for their powerful draw. Our
Lighthouse Tour Special
offers a book and maps for the basis of your exploration, a lighthouse themed gift basket, $50 gas gift card and a $50 gift certificate to Freeport's award winning Azure Cafe Restaurant. Be forewarned, although these beacons may be close by sea, many are a good distance apart by car!
Lighthouse Tour Special
Our Maine Seafarer Adventure brings our guests into more intimate contact with Casco Bay, featuring an amazing sailing experience on a traditional schooner and a visit to the expansive and magnificent Maine Maritime Museum, on the mighty Kennebec River. The Museum includes the entire grounds of the Percy & Small boatyard, including the museum, blacksmith shop, boat shop, construction-ways, docks and even the owners personal residence. This is the only surviving 19th century wooden boatyard that has survived into the 20th century! I'm saving this for another blog, but in season the Museum also offers tours the Bath Iron Works shipyard (building stealth destroyers now) and all kinds of fascinating boat tours of the River and Coast. Of course, our special also includes a welcome backed and gift certificate to the Azure Cafe. Maine Seafarer Adventure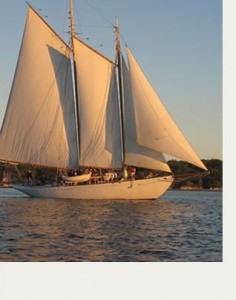 The Perfect Maine Adventure, Land & Sea, is our latest novel idea, and all of the guests we've discussed it with thought it an awesome offering!! Having sailed most of my adult life, some family members and I signed on the schooner Heritage for a 6 day voyage from the East Coast of Penobscot Bay, to Mt. Desert (Acadia National Park) & back. Gorgeous, powerful (145'), elegant, comfortable cabins and great food! Bring a good book or two, binoculars, and relax on deck, or jump in with the crew, raise the sails, play with their amazing sailing and rowing dinghies, wash off the anchor or discuss navigation with the Captains, YOUR CHOICE! Throw in your own case of wine for seem evening stargazing, and you'll have on of the finest adventures of your life! Call me to discuss if you're interested, but the idea here is to combine time on the schooner, with some soft time and legendary breakfasts and cookies at Brewster House, reveling in the pleasures of the Casco Bay area, Portland distractions, local beaches and other "mid-coast" pleasantries. IN OUR BOOK, THAT IS PERFECT!! Perfect Maine Adventure, Land & Sea
For the beaches, you'll have to book a stay, let us spoil you, and be schooled on the best local secrets, while basking in the glow of your 3 course gourmet breakfast!! See us at Brewster House