"Boating Portland, Part I" https://brewsterhouse.com/2014/06/21/boating-around-freeport-maine/, was the first part of this encyclopedic  compenduim, so start there and catch up before you dive in here!
OK, so we've moved up the coast from Portland to Freeport!  I'd love to tell you that there were multiple boating options from our hometown, but I only know of one, Atlantic Seal Cruises, with Captain Ring from Harraseeket Harbor in South Freeport (& Cook's Lobster House on Bailey's Island), but when you add in "the neighborhood," there are AMAZING BOATING CHOICES FROM FREEPORT, & east!   Captain Ring is very entertaining, and works most of the year a commercial tug captain.  You'll pick up some lobster traps, he'll show you some seals, osprey, eagles and you'll spend an hour on Eagle Island at what was the former home of the famous Arctic explorer, Admiral Peary!  Tom and his Wife actually owned a B & B on the Harraseeket waterfront, and he always raves about Brewster House when he stops by! He also does some special trips to Seguin Island light and fall foliage cruises.
A new opportunity locally is a husband and wife team, Bethany & Perry, who would love to share their 31' ketch, "Tevake", or their new acquisition, a beautiful dark green 70' schooner, "Alert." They sail out of Cooks by the Bailey/ Orr Island granite bridge, off Harpswell Neck. They offer a myriad of 2 hour to 6 hour charters on either yacht. Both boats are beautiful and they sail the local waters of Merriconeag Sound to Casco Bay. I can't wait to have the time to sail with them! I would recommend this as the premier local sailing opportunity, the dock is a gorgeous 30 minute drive from Brewster House and their prices are very reasonable, and lunch or dinner awaits at Cook's!   https://www.facebook.com/SchoonerAlert
We don't get a lot of questions about boat fishing, but enjoying ocean fishing myself, I'll offer a little information.  The "Barbarian III" out of Harpswell is a good example.  Chartering a sport fisherman is a blast, but it's expensive enough that you'll want to share the trip (& the stories) with some buddies.  $350 – $450 for a four hour trip is typical (for the whole boat), with $700 – $800 for an 8 hour shark or tuna fishing adventure.  Further, keep in mind, the premier sport fish in Maine are stripped bass or bluefish.  As they are both pelagic (they migrate), the fishing is best in either mid May to the end of June, or September to mid-October.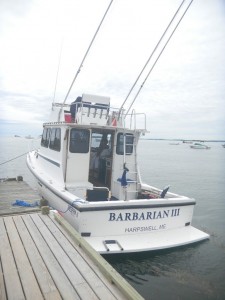 Further afield (or should I say abay), but one heck of a daylong adventure, would be a trip to the lovely, rugged and wild Monhegan monheganwelcome.com. This would be an excellent adventure for those enjoying longer stays at Brewster House!  The May edition of Down East Magazine has a great piece about Monhegan, and it's struggle to keep a year round population. The island is about 8 miles offshore, just short of 2 miles long, and very high and rocky. Its' jewels are a year round community of artists and a very hardy community of lobster fisherman who only pursue their quarry in Winter, when prices for the delicious sea spiders are higher. It is a lovely place to hike and explore, and at the end of your hike, there's even a local micro-brewery (the Monhegan Brewing Company) to reward your efforts! You can depart from either Boothbay or New Harbor (either of which is about 50 minutes east of us). Ferries depart at 9AM or 2PM, and you are asked to be there 45 minutes early hardyboat.com. I would recommend reservations. Bicycles are not welcome, although, you can arrange to bring your kayak!
Lastly, and really more of a "mid-coast" adventure is life experience you should not miss! That would be the traditional fishing schooner Heritage at anchorschooner charter fleet that sails out of Penobscot Bay www.sailmainecoast.com. These are largely classic, former fishing schooners, 75 – 150' in length, that go out for 3 to 10 day trips, complete with crew, all meals provided, and you participate in running the boat as much (or as little) as you like. My Sister, cousin and myself took a 6 day trip on the "Heritage" in August a few years ago and had a wonderful, relaxing trip…..no TV's or other distracting electronics, laying on deck at night watching the meteors and satellites, just quiet, extraordinary views of the sea, mountains, islands and marine life aboard a comfortable large, powerful schooner equipped with fabulous water toys, like sailing dinghies, rowing dinghies, etc. Food is prepared on a woodstove and of remarkable quality and taste. Don't forget your wine!! And, don't forget to start and/ or end you adventure in the luxurious comfort of Brewster House, at the turn of the Maine coast!