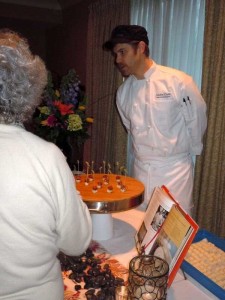 If you enjoy visiting Maine, especially Freeport, and if you love food (and who doesn't??), you'll look forward to coming to Freeport in February for the 6th Annual Flavors of Freeport festival.
In the past the Flavors of Freeport festival has featured the Chef's Signature Series on Friday night, and this year is no different in that respect. The Chef's Signature Series will be held from 5:30 p.m. to 8:30 p.m., with the venue continuing to be the Freeport Hilton Garden Inn.
Enjoy the flavors from Freeport's finest chefs and top food artisans, as they present tastes of their best dishes to showcase their culinary skill and style.  Attendees vote on their favorite display and "flavor" and are also entered to win fabulous door prizes!  Will award winning executive chef Christopher Bassett of Azure Cafe take first place again this year?  You be the judge!
In addition, Maine beverage purveyors provide the opportunity to sample local hand crafted beer, wine and spirits.
As in the past, there will be a silent art auction featuring pieces from the Freeport Art & Music Festival during the event to benefit the Freeport Community Services Food Pantry.
During the evening, accompanying the Chef's Signature Series on Friday (also 5:30 – 8:30 p.m.) will be an Ice Bar. The ice bar will feature a martini luge,  ice sculptures, roaring fires to cozy up to, music with other wonderful beverages to sample.
Bundle up in your warmest winter wear and enjoy a night of festivities outside in February with family and friends. One ticket to the ice bar gains the holder (21 years and older) entrance and one beverage – additional beverage tickets can be purchased on site.
Tickets and information can be found at Facebook.com/FlavorsOfFreeport.
Ruth & Scott
Brewster House Bed & Breakfast, Freeport, Maine