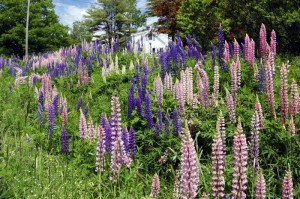 Spring is a glorious time to be in Maine! The flowers are in bloom and the azaleas are budding. Can the lupine be far behind?
As you think about your Maine getaway, consider how many days you want to spend here, and also whether you prefer to be on the move, changing locations every day or two, or make one or two locations your "base of operations", taking day trips from those spots.
It seems that most people who visit Freeport Maine either spend a night here, then travel on to their destination (to the north or south), or spend two or three days here, before going on to their next destination. Freeport is two hours drive north of Boston, and about three hours south of Bar Harbor and Acadia National Park. Once in a while a group will spend their entire getaway here in Freeport. For those with only one day (almost all of whom leave wishing they had spent more time here!), we have to set priorities and limit ourselves to one or two activities, whether shopping, lighthouses, beaches, hiking, or whatever. Our "Only One Day for Freeport" article explores those possibilities.
If you have more than a day, we have suggested itineraries for you, with ideas for up to four days of activities based in Freeport. Nevertheless, we have had several groups stay as many as eight days, then leave saying there was so much to do here, that they would just have to return to do the things they missed.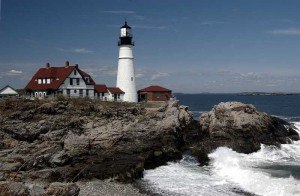 Taking a hypothetical one week getaway, as you can see, we could suggest activities around the area that would keep you busy the entire time. However, if you want to see more of Maine, we would suggest spending three or four days in Freeport, and then another three or four days either in the northern parts of Maine (such as the Bar Harbor or Downeast Acadia area) or the western part of the state, where there are lakes and mountains (and a good chance of seeing moose in the wild). To see what the other areas in Maine have to offer, you may want to visit the State of Maine's website, or read through our series on the different regions of Maine.
In either case, while in the Freeport area, we suggest visits to several of the area lighthouses – Portland Head lighthouse, Pemaquid Point lighthouse, Cape Elizabeth Lighthouse (Two Lights), Goat Island lighthouse at Cape Porpoise, Cape Neddick Lighthouse (the Nubble), Owls Head lighthouse and Marshall Point lighthouse are all easy to visit and provide beautiful views. Reid State Park and Popham Beach State Park each have lovely beaches and natural beauty. Wolf Neck State Park and Bradbury Mountain State Park offer hiking trails and wonderful vistas. Lest we forget, there are many art galleries and museums, antique shops, lobster shacks and wonderful villages, all worth spending a few hours exploring.
Now is the time to firm up those summer holiday and vacation plans! The traditionally busy weekends are either full or filling fast, but many (Independence Day holidays – July 2-5, and Labor Day Weekend – September 3-6, for instance) still have rooms available. Book online or contact us by email or phone.