Dates Offered:
04/26/2019
-
04/28/2019
Pricing Details:
$734 dbl occup/incl tax
Calling all Beer Enthusiasts:…Announcing the first annual,
BREWSTER BREWhaha April 26-28th, 2019  
RESERVE your spot today.  
The Brewster House invites you and your crew to immerse yourself in a topic near and dear to us: BEER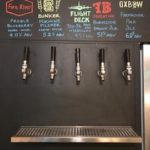 Join your fellow Beer lovers for a weekend HOPPED up and CRAFTed for your enjoyment
TALK & SHARE
5p-7p Friday eve: "Meet the Brewer" with our very special guest speaker (We'll reveal this shortly).  Bring a 4 pack of your favorite craft beer to share with your fellow travelers.  Trade your brewing stories and gain helpful advice for your next batch. (Lite snacks provided) Special Door Prize for lucky guest with funniest brewing tale.
TOUR & SAMPLE
11a – 3p Saturday: Board the Brew Bus for a 3 brewery tour & tasting.  Your expert tour guides aboard the Maine Brew Bus will shuttle you to several of Maine's finest breweries; e.g: Definitive (Portland) & Mast Landing (Westbrook) and Maine Beer Co (Freeport) where you will tour their facilities & enjoy hand-picked selections.**
TWIST & STOUT
4p-6p Saturday: Return to the Brewster House for our popular pretzel making & beer pairing class.  Chef Dave will show you how to make, form & prepare our favorite savory treat.  Then enjoy the salty perfection with a selection of artisan mustards & IPA cheddar dipping sauce along side a flight of craft beers courtesy of our beloved #BigBrewstah.
SLEEP & SAVOR
Saturday & Sunday mornings start with a delicious 3 course, gourmet breakfast, freshly brewed, French Pressed Coffee & Hot Tea.   Dinners on Friday & Saturday night can be enjoyed at one of many restaurants a short walk from the INN.  All our Queen & King Bedrooms include Robes with Slippers, Wifi,  DirectTV and luxury amenities.
Check in Friday is after 3p; Check out is Sunday 11am
The LL Bean flagship, campus & the over 50 premium Outlet stores are a short walk into town for your leisure time enjoyment.
Pricing for 2 ppl, 2 night stay, Queen Room starts @  $734 (tax, tour & class included; additional tour guide gratuity encouraged)
Your weekend getaway includes:
Two nights, luxury accommodations in our well-appointed rooms with Direct TV, WiFi and private baths.
Delicious, 3 course breakfast each morning
"Meet the Brewer" social with a VIP speaker and light fare.
Maine Beer Bus Tour, estimated 3-4hrs, includes beer samples, gift bag & snack
Twist & Stout – pretzel making & beer pairing class
* We have 2 Suites that accommodate up to 4 guests
RESERVE your Fireplace Room today
*Minimum of 10 participants are needed to conduct exclusive weekend
Ask us how to get your stay comp'd if you organize your friends for a custom crafted "BrewHAHA"
**Final list of Brewery stops TBD; Call today with your questions or to help finalize your stay.  207-865-4121
Filed under: Beer Enthusiasts, Foodies, GastroBnB
Select an offer type to see other similar offers