Plan early for a Maine Fall Foliage package! See the best of New England fall colors in Maine with Brewster House
Bed & Breakfast's Fall Colors Surf and Turf package for 2021.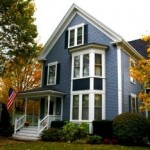 Enjoy 3 nights for two in a queen room at Brewster House. Add a self-driving tour of the foliage areas and a view of the Casco Bay foliage from the deck of a graceful Maine schooner.
Book a 3 night, mid-week stay in September and we'll throw in a complimentary Schooner cruise for two!
Schooner cruise subject to availability.  Fall foliage subject to environmental factors beyond our control.