July 1, 2019 by insideout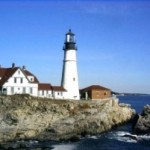 Your Lighthouse Tour Special includes a two night stay in one of the romantic queen rooms at Brewster House (only a short walk to L.L. Bean and Freeport's many shops), then add an extensive lighthouse driving tour along Maine's spectacular coast. Visit as many of our picturesque lighthouses as time permits! Take home your own copy of a lighthouse guidebook to enhance your tour. Allow plenty of time, as you can easily spend more than a day on the driving tour.
Includes a $50 gas card to help with some of the transportation costs, a $50 restaurant gift card at our favorite spot, Tuscan Bistro, and a lighthouse-themed Maine welcome basket round out this special.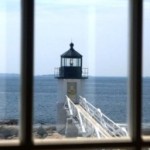 New! Add a two-hour cruise of Casco Bay on an antique schooner for only $40 per person! Please let us know when booking that you would like to add the schooner cruise.
Double occupancy king or queen rate, including taxes, starting at just $595 including tax.   Schooner cruise is additional. Rates for our suites are available on request.
April 27, 2018 by Kelleigh Dulany
Girlfriends' PRO night Cooking class at the Brewster House – Pizza, Rose & OverNIGHT- Saturday, June 2nd 6p-8p

Grab your Girls and learn all you knead to know about dough, sauce basics, cheese basics and overall technique before topping with your fresh ingredients and baking to perfection.  No pizzeria-style oven required. The result is unbelievable pizzas from scratch, that you'll create and enjoy eating "Inn our Kitchen" for a hands-on experience.  Pair your artisanal pizza with our selections of craft beer and wine, which are available for sale.
Our favorite Rose from Channing Daughters will be available by the glass for all to enjoy.
Leave our cooking class with the skills and knowledge needed to make great pizza in your own home!
*Saturday, June 2nd: Pizza from Scratch 6p-8p $50 pp; $85 per couple (**Free with 2 night stay); Alcoholic Beverages not included.
RESERVE  Your spot today- Space is Limited – Overnight stays encouraged but not required.  Call for class only enrollment: 207-865-4121
January 20, 2016 by Kelleigh Dulany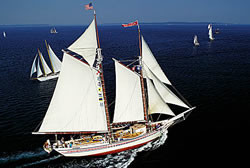 The Heritage is a 145′ traditional Maine schooner that sails out of Rockland.  It occurred to us that the combination of a luxurious stay at Brewster House, combined with a sailing adventure on Heritage would be The Perfect Maine vacation!  We've worked out this magical vacation for your excitement and pleasure, offering the best of the beaches, shopping, museums and restaurants of Portland and the "mid-coast," with an authentic sailing adventure ranging east from Penobscot Bay to Mt. Desert Island (Acadia National Park) on the ship that is truly the "Queen of the Windjammer Fleet!"
This could be as little as 3 days on each, or as much as 6 days on each, or any combination that will fit our respective schedules and occupancy opportunities.  Call Brewster House for more information, but a look at their video https://www.youtube.com/watch?v=vKBjprcNDjI&feature=player_embedded (and ours on this website) will certainly entice you!
May 23, 2015 by insideout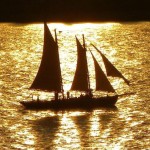 Your Maine Seafarer Adventure includes two nights in one of our deluxe king or queen guest rooms, where you will receive a nautical-themed gift basket. Wake to fabulous breakfasts each morning, as well as afternoon refreshments. Sail Casco Bay on a historic, Maine-built schooner, and learn about Maine's maritime history with admission for two at Maine Maritime Museum . Relax with dinner at Azure Cafe ($50 gift certificate included), to complete your memory-making voyage. If you have time, visit some of the area lighthouses and harbors (maps and directions provided). Your vacation of a lifetime!
Double occupancy, king or queen room, from $610 + tax. Other rates are available for suites (Portland Head or Bass Harbor).
Available June 1 – October 10, 2017