Check out our newer article, Touring Maine Lighthouse (with Lighthouse Map), too!
Freeport evokes different thoughts for different people. For many it is L.L. Bean and the many shops and restaurants within easy walking distance of your B&B. But for others it is its prime location on the Maine coast, in easy driving distance from lobster shacks, hidden harbors, and most intriguingly, lighthouses.
Maine has over 60 lighthouses, many on, or within sight of, the coast. If you enjoy seeing and photographing lighthouses, there are five great ones you can visit within just over an hour's drive from Freeport.
We'll begin just over an hour south of Freeport, and work our way about an hour north.
1. Cape Neddick Lighthouse (The Nubble)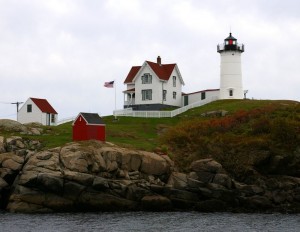 Cape Neddick Light is on a tiny island (called the Nubble), just 200 yards off shore near York Beach, Maine. Accessible only by cable car, which was manually operated until electrified not many years ago. The parking area on the mainland is on a raised, rocky point, so the view of the lighthouse and keepers house are excellent. It is one of the most frequently photographed and visited lighthouses in Maine.
2. Goat Island Light (Cape Porpoise)
Near the scenic village of Kennebunkport is Cape Porpoise harbor, with Goat Island Light guarding its entrance. The lighthouse can be best seen from the Municipal pier in Cape Porpoise. This was the last manned lighthouse in Maine, being automated in 1990, after having been manned as a security station during the presidency of George H.W. Bush.
3. Cape Elizabeth (Two Lights)
Just south of Portland, Maine is the pretty little community of Cape Elizabeth. On its south side, is the unusual Two Lights light station. Originally built as a single tower in 1811, in 1828 two towers were build, so that they would align to form a range, allowing mariners to easily find their bearing. Nearby is the famous Two Lights Lobster Shack, which offers some of the best views of Casco Bay.
4. Portland Head Lighthouse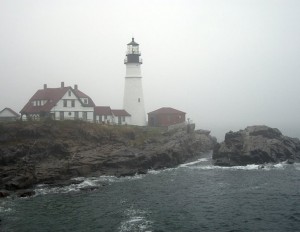 Also in Cape Elizabeth is Fort Williams Park, home of the easily recognized Portland Head Lighthouse. Commissioned in 1787 and taken over by the new US government in 1790, the lighthouse was first lit in 1791. In addition to the lighthouse and museum, and the magnificent views along the coast, Fort Williams park includes historic fort remains, an old mansion, a playground and picnic areas.
5. Pemaquid Point Lighthouse
Perched on a rocky bluff at the end of a peninsula, and overlooking Muscongus Bay, Pemaquid Point is one of the most dramatic and photographed lighthouses in Maine. On sunny summer days there will be artists all through the picnic area and on the rocks, painting or sketching the lighthouse. Built in 1827, the lighthouse warns of the treacherous rocky formations in the area. From the rocks you'll also see many lobster buoys marking the strings of lobster pots (traps) just off the rocks. Pemaquid Point Lighthouse is about an hour from Freeport.
Of course, this ignores many other lighthouses between Cape Neddick and Pemaquid – many offshore, and each with their stories to tell of ships foundering on the rocks and heroic rescues. And, if you venture just a bit farther, you'll see even more lighthouses and more spectacular views of the coast.