The Portland Head Lighthouse is a favorite for good reason. Its proximity to the City of Portland, its stunning beauty set on the picturesque coast on Fort Williams Park and its one of our favorite rooms here at the Brewster House.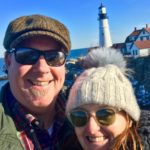 Still dreaming of your Maine getaway? Long for the fresh air and blue skies? Portland Head Lighthouse is just south of us and one of the most photographed. It also happens to be room (#6) here at the Brewster House. This King Bed Suite with companion room (featuring a pull out couch) offers 'breathing room' for a couple and flexibility for a family of 3.
The Portland Head Suite is especially suited for college visits. Whether you're touring prospective institutions or visiting your co-ed, the Brewster House is conveniently situated near Bowdoin College and a short drive to Bates, Colby, University of New England as well as the Maine College of Art and University of Southern Maine. And just to sweeten the deal, we love to invite your special family member to join for breakfast, that is if your student is willing to get up before 1p. 🙂
Your Lighthouse Adventure Awaits, RESERVE your favorite Lighthouse Room today. Make your plans now!… Maine Open Lighthouse Day is September 10, 2022!