Dates Offered:
06/01/2021
-
09/30/2021
Pricing Details:
Excursions start at $745/person + tax; Your Brewster House stay is additional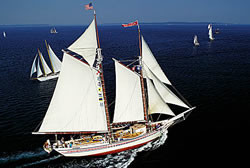 The Heritage is a 145′ traditional Maine schooner that sails out of Rockland.  It occurred to us that the combination of a luxurious stay at Brewster House, combined with a sailing adventure on Heritage would be The Perfect Maine vacation!  We've worked out this magical vacation for your excitement and pleasure, offering the best of the beaches, shopping, museums and restaurants of Portland and the "mid-coast," with an authentic sailing adventure ranging east from Penobscot Bay to Mt. Desert Island (Acadia National Park) on the ship that is truly the "Queen of the Windjammer Fleet!"
This could be as little as 3 days on each, or as much as 6 days on each, or any combination that will fit our respective schedules and occupancy opportunities.  Call Brewster House for more information, but a look at their video https://www.youtube.com/watch?v=vKBjprcNDjI&feature=player_embedded (and ours on this website) will certainly entice you!
Filed under: Romance Package, Spring Package, Summer Packages, Summer Special
Select an offer type to see other similar offers