Dates Offered:
02/01/2020
-
4/04/2020
Pricing Details:
25% off 2 nights OR 33% off 3 nights
3Take advantage of winter in our Winter Wonderland package, with rates that get lower the longer you stay!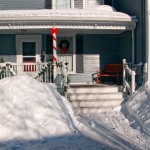 Would you like to enjoy Maine's scenic beauty in a completely different way from the beautiful coastal summers? Do you love shopping in Freeport, but wish it wasn't so crowded?
Now you can have both the outstanding winter beauty and the uncrowded shopping opportunity during our Winter Getaways in Maine. Relax in Brewster House's Victorian charm. Unwind with tours of the breathtaking Maine coast in winter, learn to snowshoe or cross-country ski w/ LL Bean and walk to shopping in Freeport, then cuddle with a bottle of one of our great wine selections by the fireplace Enjoy wonderful breakfasts, made fresh daily at Brewster House.
Your Winter Getaway Package includes:
Two nights accommodations at Brewster House at 25% off our standard quiet season rates, OR, three (or more) consecutive nights at Brewster House at 33% off our standard quiet season rates!
Full hot gourmet breakfasts daily, afternoon refreshments, directions and itineraries for sightseeing day trips.
Your Winter Wonderland package is valid from February 1 – April 4th.  * Excluding select Holiday Weekends
Filed under: Rest and Relaxation, Romance Package, Special Discount, Winter Packages
Select an offer type to see other similar offers