September 16, 2020 by Kelleigh Dulany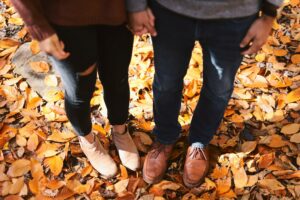 This month only.  Midweek Guests will enjoy 2 pm check out.
After enjoying your delicious home-cooked, Locally sourced breakfast there's plenty of time to explore Freeport, go for a hike, walk along the shore or simply have a special morning and sleep in.
The time is yours to enjoy. Reserve your fire-placed room today
May 21, 2020 by Kelleigh Dulany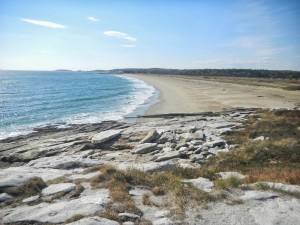 Craving the Great Outdoors?  Missing your close pals?  Longing to hug your family members?  We get it, and want to offer a smart, comfortable solution:  A Brewster House Takeover aka We're All INN!
The Brewster House makes the perfect reunion destination.  Our 7 rooms can offer you and yours the chance to get closer than 6 feet and without the added stress of interacting with strangers.  You'll enjoy Dave's delicious 3 course breakfasts, a 24/7 kegerator with 5 Maine craft beers, and your luxury room with private bath, while freely moving about the parlour, sunlit porch and inviting backyard fire pit stocked with S'mores essentials for all.   Oh and there's WiFi throughout if you insist on having a zoom meeting while you're here, just for ole time's sake!
Freeport offers the perfect respite along the picturesque Casco Bay plus the added reassurance of a returning to a home all to yourself.  We're here to point you to all the great things to see and do so you can focus on the important work of reconnecting in person.
Call us for availability, special "All Inn" rates and ask about the additional incentives to book midweek!
We'll help you feel safe and confident when you stay with friends at the Brewster House.
May 18, 2020 by Kelleigh Dulany
COVID 19 got ya a little tense?  We've got the perfect respite:  pop some bubbles with breakfast, enjoy a stroll along the less traveled coast line, meander the shopping in Freeport , return for a flight of Craft Beers from BigBrewstah and enjoy a 4th night for just $19.
Take comfort in staying in our home when you are ready to travel.  Get outside and explore (we love to offer as much local travel advice as you desire) and rest easy by returning to your cozy space every night.
The Brewster House's Victorian charm features smartly appointed rooms (several with fireplaces) luxurious amenities, and wonderful 3 course breakfasts & french press coffee made daily.
This Special may only be paired with Brewster House gift certificates, no other gift certificates or coupons may be included with this special offer.  LEARN more about all the steps we are taking to help you relax with us.
Ask us how we can make your stay even more memorable by adding a wine & artisanal cheese platter in your room upon arrival.   RESERVE TODAY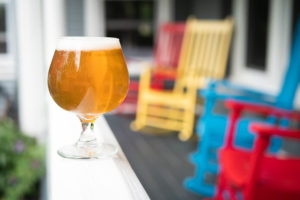 May 15, 2020 by Kelleigh Dulany
Get Gas'd UP, here!

Our Tri-State Travel Deal :  Book a 2 night stay with us this summer and we'll pick up your gas!
As of July 3rd our friends from New York, New Jersey & Connecticut can travel here to Maine without impediment.
We'll show you our favorite hikes, point you to the best lobster roll and ensure you rest knowing we're taking great care to provide a healthy home for you to relax.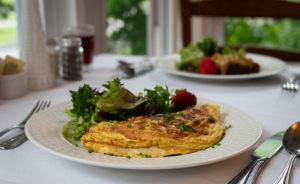 Be the first to book and get a complimentary room upgrade.
Rates include a delicious 3 course breakfast plus a $50 Gas Card!
Use the code Ex-PAT when you book
Special Bonus for longer stays….add a 4th night for just $19!*
*Offer valid for summer 2020 Stays; Not to be combined with other others and only when booked direct.
Read More about all the extra care we are taking to welcome you to our  home.
March 20, 2020 by Kelleigh Dulany
Purchase a Brewster House Gift Certificate NOW and enjoy your future stay even more!  How's the COVID-19 Social Distancing working out for you?  You one of the "lucky" ones homeschooling your kids?  Or perhaps you are one of the many unsung heroes working in the medical and public safety fields.
We're hunkered down here at the Brewster House following all the news and working to stay optimistic.  We are using this as an opportunity to take our annual Spring Cleaning to new depths: while we've always scrubbed & disinfected every surface,  sanitized all our linens, scraped, sanded & painted…we've added delousing Dave for good measure- which he oddly seems to enjoy.
We're amazed at the talent, creativity and dedication that keeps reinventing itself to overcome and survive.  You deserve a reward for all that hard work.   Once you've finished all the home improvement projects, sent the kids off to their new boarding school and the CDC gives us the green light….we're back INN business.  BOOK your Cabin Fever Getaway with us and enjoy your special gift.
All Gift Certificates of $500 or more enjoy a $50 Gift Card to use for local dining or applied to your stay; Gift Certificates over $250 will arrive to a complimentary bottle of delicious Prosecco or 2 flights of Maine Craft Beer from BigBrewstah.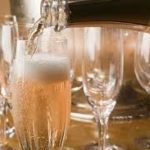 Gift Certificates have no expiration date.  GET YOURS NOW
September 18, 2019 by Kelleigh Dulany
The holidays are fast approaching and so is Early Bird Shopping in Freeport:  Saturday, November 2nd from 6-9a for the Best Deals in Town!  Don't miss this annual event and a chance to get away for a weekend of deals & meals, bubbles & bloodys!
Here's our snap shot of the perfect Saturday:
5:50a – Rise & Shine with your in-room coffee maker
6:00a – Hit every store and don't fret about the time, we're extending our breakfast on Saturday to 10a so you don't miss  a minute.
9:01a – Drop those bags, Kick off your shoes & Toast your accomplishments with Mimosas & Bloody Marys* back at the Brewster House.
This year, Visit Freeport presents a twist on our our traditional Early Bird Sale! Freeport shops, restaurants, attractions and lodging properties will be hosting a full weekend of activities and events including meet the makers, tastings & receptions, happy hour deals, sidewalk sales, deep discounts, guest performers, and so much more!
Gather your bestees and RESERVE one of our finely appointed rooms to get a jump on the holiday shopping and enjoy a little down time before the real holiday rush begins.   Ask us about our "3rd night's the Charm" special.
*2 Drinks per guest are with our compliments for the intrepid shoppers staying for 2 nights or more.
July 1, 2019 by insideout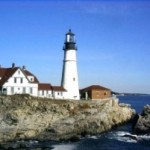 Your Lighthouse Tour Special includes a two night stay in one of the romantic queen rooms at Brewster House (only a short walk to L.L. Bean and Freeport's many shops), then add an extensive lighthouse driving tour along Maine's spectacular coast. Visit as many of our picturesque lighthouses as time permits! Take home your own copy of a lighthouse guidebook to enhance your tour. Allow plenty of time, as you can easily spend more than a day on the driving tour.
Includes a $50 gas card to help with some of the transportation costs, a $50 restaurant gift card at our favorite spot, Tuscan Bistro, and a lighthouse-themed Maine welcome basket round out this special.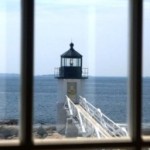 New! Add a two-hour cruise of Casco Bay on an antique schooner for only $40 per person! Please let us know when booking that you would like to add the schooner cruise.
Double occupancy king or queen rate, including taxes, starting at just $595 including tax.   Schooner cruise is additional. Rates for our suites are available on request.
February 12, 2019 by insideout
Spend 2 nights with us and enjoy $50 at Bhavana Day Spa.  Maine's springtime is missed by many because they only travel here in the busy summer months. See this beautiful time of year in Maine for yourself; enjoy a stroll along the less traveled coast line, meander the uncrowded shopping in Freeport and luxuriate in one of the many spa treatments a short walk from our front door.
The Brewster House's Victorian charm features smartly appointed rooms (several with fireplaces) luxurious amenities, and wonderful 3 course breakfasts & french press coffee made daily.
Your Spring & Spa special is valid from March 1 through May 1, 2019.  This Special may only be paired with Brewster House gift certificates, no other gift certificates or coupons may be included with this special offer.
Ask us how we can make your stay even more memorable with bedside bubbles, a flight of craft beers or a hand selected wine & artisanal cheese platter in your room upon arrival.   RESERVE TODAY
.
January 3, 2019 by insideout
Valentines Day is a special time, and we think one day is far too short for all the romance of February. We've extended our Valentines Day Package to the entire month of February.
Get Out  of town and enjoy any two consecutive nights in an elegant, romantic, historic Bed and Breakfast in Freeport Maine. Make the kind of memories that will last a lifetime. Tour the coast's dramatic lighthouses, play in the snow with the LL Bean Discovery Center, then enjoy a delicious dinner of Maine lobster, or shopping at over 160 stores and restaurants in Freeport.
Get Lost.  Oh…and did we mention the new day spa Bhavanna that awaits you?!?!-  whether you seek healing, natural medicine and preventive services or are simply in need of pampering and indulgence. With over 200 different offerings and growing, there is something here for everyone, including couples massage.
Get Together.  Indulge your romantic dreams at Brewster House. Enjoy a welcome chilled bottle of Prosecco or a flight of craft beers for Big Brewstah in your flower adorned room, Dave's home-made chocolate truffles, and a full 3 course gourmet breakfast daily. Relax in one of our immaculately appointed spacious rooms with either king or queen beds and large private baths (most with full tubs), and most with gas fireplaces!
February is for Romance The Romance Package includes:
Two nights accommodations at Brewster House with your large bathroom w/ full tub and gas fireplace, delicious full hot breakfasts each morning, and daily afternoon snacks
A $50 gift certificate to a romantic area restaurant
A bottle of your choice of chilled Prosecco or a flight of Craft Beer
Dave's signature treats
Concierge service to book your deep tissue massage, yoga class, natural mani, hemp foot soak or choose from Bhavana's extensive selection of services.
The rate for the February is for Romance Package rates from $428 + tax  (based on a two night stay, double occupancy, taxes included – actual rate depends on room selected). Contact us for rates for other room configurations. Valid February 1 through February 28.  Please note, we have a 2 night minimum on Valentine's Day Weekend!
January 29, 2018 by Kelleigh Dulany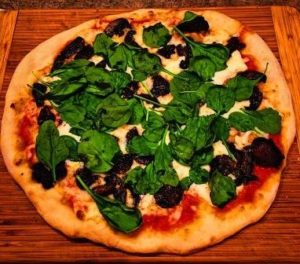 Learn How to Make Great Pizza at home with us while enjoying Maine Craft Beer on tap and an excellent Wine selection. In just 2 hours, you too can become a Pizza aficionado at The Brewster House's InnOurKitchen cooking classes.
You'll learn:
All you knead to know about dough
Sauce basics
Cheese basics
Overall techniques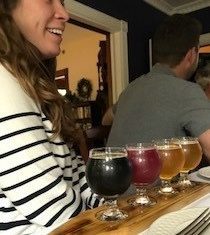 No pizzeria-style oven required. The result is unbelievable pizzas from scratch, that you'll create and enjoy eating "Inn Our Kitchen" for a hands-on experience. Pair your individually crafted pizza with our selections of beer and wine, which are available for sale. Leave with the skills and knowledge needed to make great pizza in your own home!
Classes are conducted on select Saturday nights from 6p-8p and are available for overnight guests only.  Guests that stay with us for 2 nights can enjoy the class for FREE during the month of May or $50 per person; $85 per couple.  Class sizes are limited to 10 and require at least 4 students, so grab some friends and enjoy a great night without leaving our cozy home.  (*We do ask that guests show their commitment to attending our class by reserving with a $20 per guest deposit to be applied to beer or wine purchases or refunded after class completion)
RESERVE one of our luxurious rooms today and enjoy a great weekend away full of food & fun.  Or call us direct to book your stay or help answer questions you may have about timing, availability or a full Inn "takeover" for you and your crew.