Specials
Save When You Stay with Our Maine Coast Getaways Offers
At Brewster House Bed & Breakfast we enjoy creating Maine coast getaways and vacation specials as opportunities for you to enjoy the wonderful activities available in the Freeport, Maine area.
Below are some of our special packages. Some of our guests ask if they can make changes – add a restaurant gift certificate, or perhaps omit part of the package. We are happy to make any adjustments we can to help you make the most of your Maine coast getaways. If you like one of the packages, but there is something that doesn't suit your needs, please call or email with your request, and we will help you find a variation that will work for you!
These packages are only available when your stay at Brewster House is booked directly with us, not when booked through any "online travel agents," such as Booking.com, Expedia.com or Bed&Breakfast.com.  Also, packages and specials may not be combined.  For example, if you chose our "Winter Wonderland Special," it could not be combined with our "New Years Special."
View Maine Coast Getaways by Category
Choose a Maine Coast Getaways category from the list below:
Viewing all Maine Coast Getaways
Pricing Details: 20% off 2 nights OR 33% off 3 nights
Take advantage of winter in our Winter Wonderland package, with rates that get lower the longer you stay!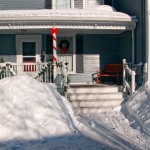 Would you like to enjoy Maine's scenic beauty in a completely different way from the beautiful coastal summers? Do you love shopping in Freeport, but wish it wasn't so crowded?
Now you can have both the outstanding winter beauty and the uncrowded shopping opportunity during our Winter Getaways in Maine. Relax in Brewster House's Victorian charm. Unwind with tours of the breathtaking Maine coast in winter, learn to snowshoe or cross-country ski w/ LL Bean and walk to shopping in Freeport, then cuddle with a bottle of one of our great wine selections by the fireplace Enjoy wonderful breakfasts, made fresh daily at Brewster House.
Your Winter Getaway Package includes:
Two nights accommodations at Brewster House at 20% off our standard quiet season rates, OR, three (or more) consecutive nights at Brewster House at 33% off our standard quiet season rates!
Full hot gourmet breakfasts daily, afternoon refreshments, directions and itineraries for sightseeing day trips.
Your Winter Wonderland package is valid from January 3- January 31st.