Specials
Save When You Stay with Our Maine Coast Getaways Offers
At Brewster House Bed & Breakfast we enjoy creating Maine coast getaways and vacation specials as opportunities for you to enjoy the wonderful activities available in the Freeport, Maine area.
Below are some of our special packages. Some of our guests ask if they can make changes – add a restaurant gift certificate, or perhaps omit part of the package. We are happy to make any adjustments we can to help you make the most of your Maine coast getaways. If you like one of the packages, but there is something that doesn't suit your needs, please call or email with your request, and we will help you find a variation that will work for you!
These packages are only available when your stay at Brewster House is booked directly with us, not when booked through any "online travel agents," such as Booking.com, Expedia.com or TripAdvisor.  Also, packages and specials may not be combined.  For example, if you chose our "Winter Wonderland Special," it could not be combined with our "New Years Special."
View Maine Coast Getaways by Category
Choose a Maine Coast Getaways category from the list below:
Viewing all Maine Coast Getaways
Pricing Details:
Purchase a Brewster House Gift Certificate NOW and enjoy your future stay even more!  How's the COVID-19 Social Distancing working out for you?  You one of the "lucky" ones homeschooling your kids?  Or perhaps you are one of the many unsung heroes working in the medical and public safety fields.
We're hunkered down here at the Brewster House following all the news and working to stay optimistic.  We are using this as an opportunity to take our annual Spring Cleaning to new depths: while we've always scrubbed & disinfected every surface,  sanitized all our linens, scraped, sanded & painted…we've added delousing Dave for good measure- which he oddly seems to enjoy.
We're amazed at the talent, creativity and dedication that keeps reinventing itself to overcome and survive.  You deserve a reward for all that hard work.   Once you've finished all the home improvement projects, sent the kids off to their new boarding school and the CDC gives us the green light….we're back INN business.  BOOK your Cabin Fever Getaway with us and enjoy your special gift.
All Gift Certificates of $500 or more enjoy a $50 Gift Card to use for local dining or applied to your stay; Gift Certificates over $250 will arrive to a complimentary bottle of delicious Prosecco or 2 flights of Maine Craft Beer from BigBrewstah.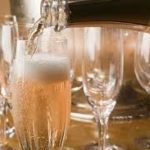 Gift Certificates have no expiration date.  GET YOURS NOW