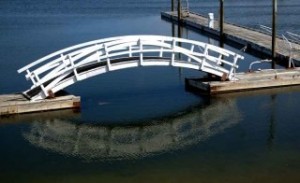 Maine's premier shopping destination is Freeport. Not only are there over 160 shops, outlet stores and restaurants, but it is the world headquarters of retail giant L.L. Bean, and home to its several stores (the flagship store, with everthing from clothes to camping gear, furniture, home goods, gifts and more), the hunting and fishing store, the bike, ski and boat store, and the L.L. Bean Outlet, with a full-scale home store in the works). But what else is there to do in Freeport, Maine?
There is plenty to do in addition to shopping! In this post we'll cover 10 popular things to do in or near Freeport, for those who aren't here to shop (is that possible?), or when you'd like to take a break from the shops and see a bit of Maine!
1. Bird Watching
There are several great spots for birding near Freeport. From the Audubon Society's Mast Landing Bird Sanctuary, providing a serene property, perfect for walking, enjoying a picnic and bird watching, to the Audubon Society's Gisland Farm Sanctuary, with nature trails winding through meadows, woods and estuaries. Enjoy art exhibits and an extensive collection of mounted mammals and birds representative of Maine's ecosystems. Also, some of the other locations below provide excellent opportunities for birding.
2. Adventure
The folks at L.L. Bean put on a series called the L.L. Bean Outdoor Discovery Schools which include their $15 Walk-on Adventures. There you can learn to fly fish, paddle a canoe or kayak, cross-country ski, snowshoe, or practice archery or clay target shooting. They also have more advanced courses for the more experienced visitor.
3. Beaches
Yes, beaches. In Maine. Astonishing! In Freeport, there is Winslow Memorial Park, a lovely town park along part of Casco Bay. Most of the waterfront is grassy, and excellent for picnics and playing, but there is a small sand beach, as well.
Larger beaches are found at two State Parks, Popham Beach and Reid State Parks. Both are north on US-1 about 10 minutes, then east about 15-20 minutes more to the end of their respective points of land, where there area beautiful large sand beaches, restrooms, and camp and picnic facilities. The scenery is breathtaking.
4. Visit Lighthouses
Of Maine's 60+ lighthouses, several are not far from Freeport. Since we recently posted on lighthouses to visit nearby, please see that post for all the scoop. This doesn't include several small lighthouses on Casco Bay, in and around Portland's harbor.
5. History
Visit historic Wolfe's Neck Farm and see a 626 acre farm on the Maine coast dedicated to sustainable agriculture, environmental education, and community well-being.
Nearby is Desert of Maine, a famous natural phenomenon, creating a desert in Maine (of all places!).
If you enjoy maritime history, the Maine Maritime Museum is in Bath, about 15 minutes from Freeport, and is filled with history about Maine's maritime past and present.
6. Golf
If you would enjoy a round of golf in a wonderful setting, there are several courses that would suit you nearby. Closest is the Freeport Country Club's 9-hole track. Brunswick's Brunswick Golf Club is a nice 18-hole course, and only about 10 minutes away. Fox Ridge Golf Club, past home to the Maine State Open, is not much farther away, and provides a real challenge to golfers of any ability. Others are a bit farther away, near Portland or Boothbay Harbor.
7. Hiking and Nature
Two of Maine's great State Parks, Wolfe Neck State Park and Bradbury Mountain State Park, are located within about 10 minutes drive from Freeport. Wolfe Neck State Park is on Casco Bay and offers hiking trails in the woods and along the bay. Bradbury Mountain State Park offers fine views from its trails at higher elevation.
8. Boating
Canoes and kayaks can be rented nearby for the self-powered enthusiast. There are also tour boats for everything from puffin and whale watching tours and lighthouse tours to tours of Arctic explorer Admiral Peary's Eagle Island home. Some are as close as 5 minutes from Freeport, while others are from 10 to 50 minutes away. Sails on an antique schooner are as close as Portland harbor.
9. Art Galleries
In Freeport you'll find a group of artists at Freeport Square or the new Wonderful Art Gallery, right in Freeport Village, or just a bit up US-1 is the Frost Gully Gallery, featuring 20 Maine artists at Maine's oldest gallery.
10 Antiques
OK, so hunting for antiques is a form of shopping. Still, it isn't quite the same thing, is it? Just 5 minutes up the road in Brunswick is the Andross building, containing a large antique mall with a variety of dealers. Brunswick also has several independent antique dealers. A few more minutes up US-1 in Bath, there are several individual antique shops along the streets, and others along Route 209 toward Popham Beach.
Do you have any favorite places in Maine? Let us know in the comments.