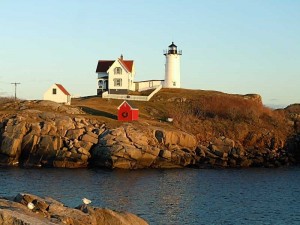 We decided to take our own advice from our previous blog post and visit Cape Neddick Lighthouse in York Beach. Also known as Nubble light, for the small island ("the Nubble") it sits on, this lighthouse is immediately off shore, and easily viewed from a parking lot at the end of the mainland.
One of the wonderful features of the lighthouse is that it is lighted for Christmas (and again in July, for those unwilling to brave the December chill to see it). It was the Christmas lights we were after on this visit. It was a nice, clear evening, so everything was visible. It wasn't terribly cold, about 30 degrees F, but the wind was blowing, so it was hard to use a bare hand to work the camera controls!
We arrived at the lighthouse shortly before sunset, and as the sun began to set, the sky behind the lighthouse developed a rose-colored glow.
In the photo above, the sun isn't quite down and the lights have just come on. You can barely make out the white lights outlining the buildings and the tower.
As darkness begins to fall, the lights are more pronounced, giving the best of the daylight and dark views!
Now that it is dark, the lights making the outlines of the buildings can be clearly seen.
Now that is why we like visiting lighthouses in the winter!