The guests at our Freeport Maine Bed & Breakfast almost always enjoy visiting lighthouses. Many are looking for an opportunity to take nice photographs of the lighthouses and their spectacular ocean scenery.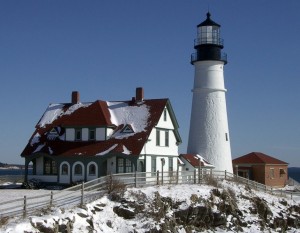 We enjoy helping the guests plan their route to the different lighthouses, sometimes making a full day of it (or more), and sometimes just a quick visit to a single lighthouse.
One thing that sometimes stands in the way of the "perfect" lighthouse photo is the other visitors, all trying to get their own lighthouse picture. Is there a way to avoid this? Of course there is!
If a warm-weather picture is what you're after, your best bet is to try to visit in late May through June. While the weather isn't as reliably dry as it will be in mid-summer, most years we have a lot of good weather in these months, and there are far fewer visitors, so it is a perfect time to get those photos of lighthouses, and other popular attractions, without having to work around others who are after the same thing.
If you want a really different kind of picture, try coming when there's snow on the ground. How many people do you know who have taken photos of lighthouses, and other Maine coastal icons, with a blanket of snow on them?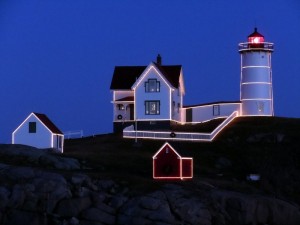 In addition, in December Cape Neddick Lighthouse (the Nubble) is lighted for the holidays, so that makes for even a more unusual photograph. For the less intrepid, however, the lighthouse is also lighted in July, so more people can see it that way.
Whatever your preference, Maine's lighthouses are ready for your photographs, all through the year. We're here, too, ready to help you plan your stay.