Fall, sweet fall, the finest time to be outdoors in New England!! Cool dry air, unlimited visibility, bugs are dead, and the trees are at their colorful best! So, you like to hike Freeport?  There are several excellent hiking opportunities!
In Freeport itself, there are really 3 different areas to hike or talk a long walk. Two are on the ocean, Winslow Memorial Park and Wolfe's Neck State Park, and one is on and around a hill on the westerly side of town, Hedgehog Mountain (quite humble for a mountain). Eight or so miles west of Freeport in Pownal, one of the original State Parks in Maine offers some excellent hiking (& mountain biking) options & and quite a superb view from the top, Bradbury Mountain State Park.
Really, Wolfe's Neck is the premier spot in Freeport to enjoy the outdoors on the water. 200 acres are State Park http://www.maine.gov/cgi-bin/online/doc/parksearch/details.pl?park_id=31, laced with several bayside trails and the North Loop Trail circles the 600 acre organic Wolfe's Neck Farm http://wolfesneckfarm.org, where you can also enjoy taking in the turkey, cattle and sheep farming enterprises.
They're located about 3 miles northeast of Freeport Village off of thebeautiful rolling Flying Point Rd. Both the State Park and Farm were donated to the public by the Lawrence Smith family back in the 1960's, and both are composed of salt-marsh, woodlands, and the farm is at the meeting of the Harraseeket River and Casco Bay. The Harraseeket and Casco Bay trails vie for loveliest water views! If biking is more your style, they rent those, and kayaks too! The State Park does charge a measly $3 to enjoy their trails, but we never hear anything but positive comments from our guests about the Park and environs!!
Winslow Park http://freeportmaine.com/department.detail.php?page_id=98, a town owned peninsula, sits about a mile south of Harraseeket Harbor in South Freeport (5.5 miles from Freeport Village) and faces Casco Bay to the south and east and the Harraseeket River to the west. The park is composed of a small beach, campground, and boat ramp. Hiking is free of charge, and the Park is open from 9AM to 9PM. The Park is basically surrounded by a trail that follows the water's edge around the peninsula, so you get to enjoy 270 degree view of both bodies of water that encircle the peninsula.
Hedgehog Mountain is a smaller hill http://freeportconservationtrust.org/areas/hedgehog-mountain-trails/on the West side of Freeport (& Rt. 295), about a mile west of Freeport Village, on the way to the transfer station off of Pownal Rd. This is a Freeport public property with over 5 miles of trails in a 200 acre area, the top of which is the highest point in Town. The Park is composed of old stone farm walls, pine and hemlock and is also a great location for both snowshoeing and cross-country skiing. Lots of local folks walk their dogs in this park too.
The hiking Grand-Dad in this part of Maine is Bradbury Mountain State Park http://www.maine.gov/cgi-bin/online/doc/parksearch/details.pl?park_id=12, about 8 miles west in Pownal. One of the first State Parks in Maine, it's comprised of over 20 miles of trails up and around Mt. Bradford. The hiking trails are largely on the west side of Rt. 9, and are also shared by mountain bikes and some trails by horses. There are more and less challenging choices here, and the view from the top is excellent, especially in the foliage season!!
Now, for your patience in waiting for this masterpiece of Freeport minutiae, I'm including a recipe you'd never eat in the in, but that we made at home a few weeks ago, AND LOVED IT! CHECK IT OUT!
 RECIPE for LACTOSE INTOLERANT LOBSTER MAC N'CHEESE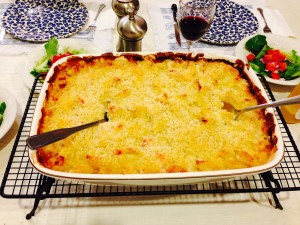 Now, I'm gonna "fess up" out of the gate, this is an Ina Garten recipe. Since my Dad was here when we tried this out, and he's lactose intolerant, all that we did differently was to substitute lactose free milk and it was AWESOME!! The butter and hard cheeses do not generally bother folks with this sensitivity.
The second editorial comment I'll make is that the recipe calls for 1.5 lbs. of lobster meat. So, we took a ride to Day's Lobster Pound and asked the clerk how many "chicken lobsters" (a pound or less) it takes to make 1.5 pounds of lobster meat. He said 5 or 6, and I thought hmmmm….. You know what, he was right!! So, the sum of this paragraph is that at $24 + or – for shelled lobster meat, it costs about the same as buying "chickens" as just saving yourself the work and buying the shelled meat.
Ingredients
 Kosher salt
Vegetable oil
1 pound cavatappi or elbow macaroni
1 quart milk (or lactaid)
8 tablespoons (1 stick) unsalted butter, sliced up
½ cup all purpose flour
12 ounces grated Gruyere cheese (4 cups)
8 oz. grated extra sharp cheddar (2 cups)
½ tsp freshly ground black pepper
½ tsp nutmeg
1-1/2 lbs. cooked lobster meat
1-1/2 cups fresh white bread crumbs
Directions
Steam 5 or 6 chicken lobsters till bright red & remove claw and tail meat. Cut into bite sizes. I saved the water from this operation to boil the pasta in later.
Preheat the oven to 375 degrees F.
Drizzle oil into a large pot of boiling salted water. Add the pasta and cook according to directions on the package & drain well.
Meanwhile, heat the milk in a small saucepan, BUT DON'T BOIL IT!   In a large pot, melt 6 tablespoons of butter and add the flour. My mean sister had me learn to do all of the preceding by making a "rue." I'm sure all you smart cooks already know about those! Cook over low heat for 2 minutes (seemed like a lot longer than that to me), stirring with a whisk. While whisking, add the hot milk and cook for a minute or two more, until thickened and smooth. Kill the heat, add the Gruyere, Cheddar, 1 tablespoon of salt, the pepper, and nutmeg. Add the cooked macaroni and lobster and stir well.
We cooked it in a casserole dish, after stirring all the ingredients in, and adding the breadcrumbs to the top. Bake for 30 – 35 minutes, till the sauce is bubbly and the breadcrumbs golden brown on top.
Let it cool for a few minutes then dive in with a chardonnay or sauvignon blanc and fresh salad!! IT'S EVEN BETTER A DAY OR TWO LATER, just like spaghetti sauce!
Bon apetit!!