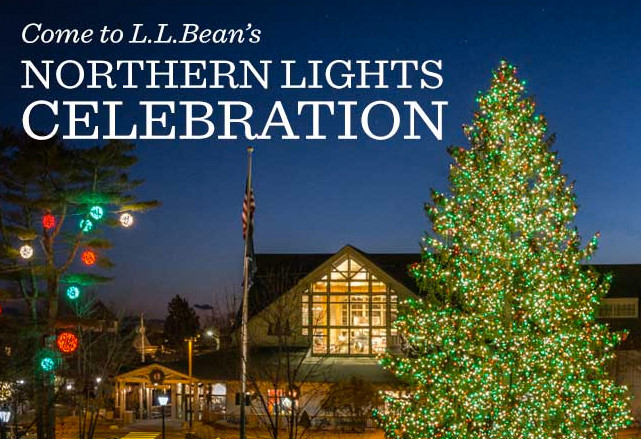 Having the L.L.Bean Flagship Campus in our town of Freeport, Maine can be pretty exciting, as they hold a lot of big events throughout the year and help to make the holidays brighter with things like the L.L.Bean Northern Lights Celebration!
Fans of the great outdoors already find the L.L.Bean Flagship Campus in Freeport an exciting event but, for those less enthusiastic about thermal underwear and kayak accessories, a visit to the L.L.Bean Flagship Campus can still surprise and delight – especially around the holidays when they go all out to spread the spirit of the season:
L.L. Bean Northern Lights Celebration
The L.L. Bean Northern Lights Celebration kicks off each year with a Tree Lighting Ceremony, scheduled this year for November 20th at 6:45pm. At the ceremony, you'll see one of the largest Christmas trees in Maine, decorated with thousands of bright and sparkling LED lights. This towering tree will spring to life, accompanied by traditional Christmas music, as performed by the Portland Community Chorus – all broadcast live with local TV news hosts on hand!
Thereafter, the L.L. Bean Northern Lights Celebration commences until the New Year; with 8 shows held nightly, between the hours of 5pm and 9pm, from the Tree Lighting Ceremony on November 20th until the final evening of December 31st.
The L.L. Bean Northern Lights Celebration is more than just a few lights on a tree, by the way – it's a musical holiday light show extravaganza! You'll be treated to the strains of beautiful and stirring Christmas music, synchronized to spectacular visual effects, and displays lit by over 25,000 colored lights spread around the L.L.Bean Flagship Campus.
Each dynamic show of seasonal light and sound is a half hour long and like nothing you've ever seen before. Did we mention there is more than one program and that you'll probably want to see them all?
Beyond the Northern Lights Celebration, L.L.Bean also offers Free, Old-Fashioned, Horse-Drawn Wagon Rides every Saturday in December – from 1pm to 7pm. While these rides are the perfect thing for the kiddies to enjoy, they are not meant for kids only and remain one of the nicest ways for you to explore the village and see all the great Christmas light displays that will be up.
Time your Freeport Christmas Getaway right and you can also receive Complimentary Gift Wrapping during your visit, as L.L.Bean is offering to wrap your gifts for you December 5th and 6th, 12th and 13th, 18th and 23rd, between the hours of 9am to 9pm – and available again on December 24th from 9am to 3pm. This is a very nice service for those of us out here with nothing but thumbs when it comes to gift-wrapping.
Freeport Christmas Getaway Lodging
Speaking of Freeport Christmas Getaways – you can instantly improve any Maine Coast vacation with accommodations at Brewster House Bed & Breakfast. Luxury, hospitality, service, elegance, and convenience are yours when you book a stay at Brewster House Bed & Breakfast. We look forward to serving you!