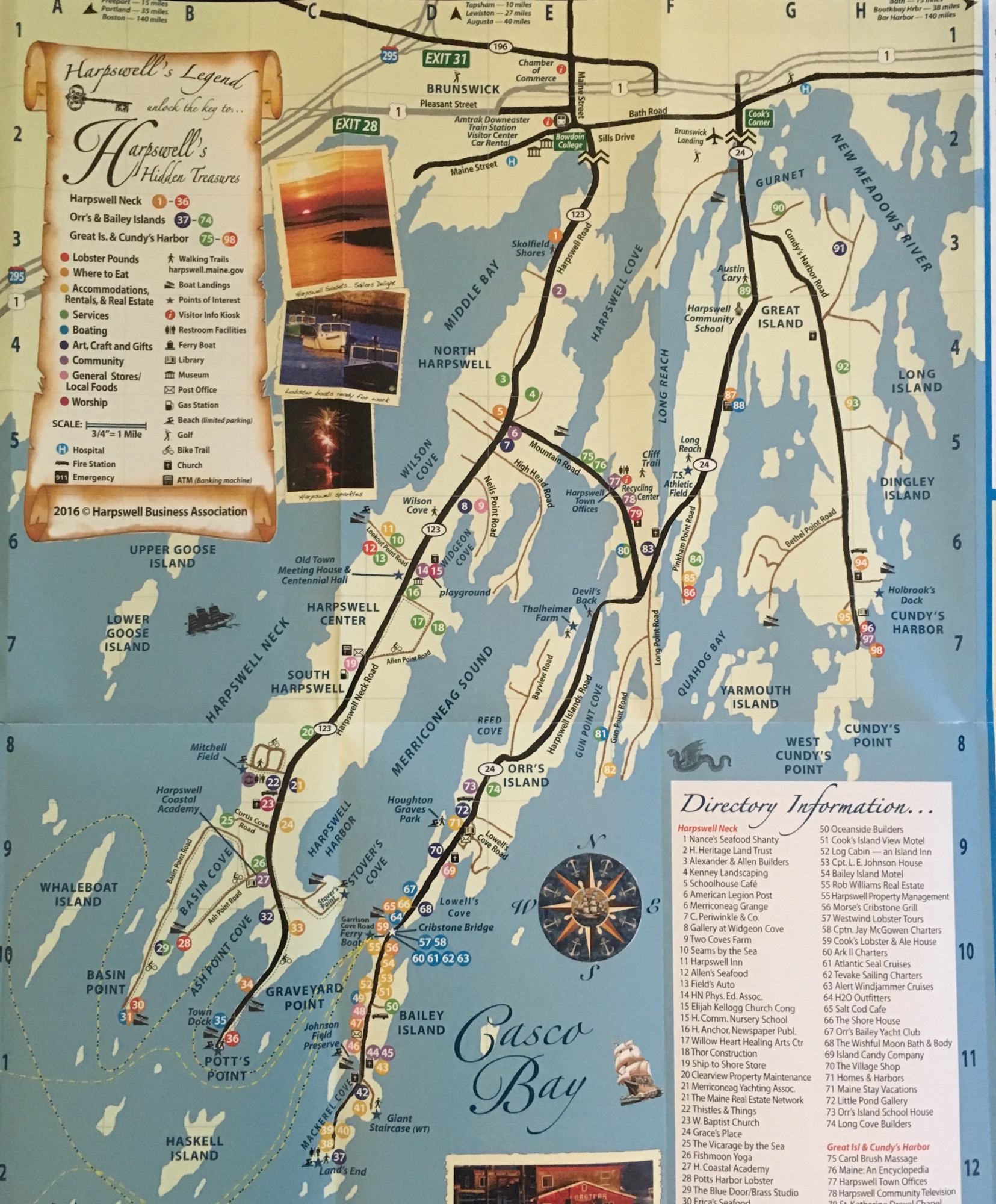 Guests at the Brewster House B&B often ask for our recommendation on what to see near Freeport. We're always thrilled to share our number one recommendation: a drive up the coast to Harpswell! This scenic drive is the best way to enjoy beautiful coastal views and quintessential Maine scenery.
Harpswell is an an easy hour's drive from the Brewster House Bed and Breakfast. Follow Route 1 north and hang a right on to Highway 24, a two lane road on which you'll pass plenty of farm stands and lobster shacks. Your drive takes you from Sebascodegan (or Great) Island, to Orr's Island and across the Cribstone Bridge to Bailey Island. Take a break to look through the quaint towns, stop to watch the lobstermen in their boats, or buy some fresh seafood at the lobster pounds. Keep driving straight south and you'll find yourself at the romantic-sounding Land's End–literally, the end of the island–with its beautiful view south over Casco Bay. You can scramble over the rocks, hang out on the beach, or just sit and witness a gorgeous sunset.
Harpswell is much beloved by both artists and tourists because of its scenic beauty. There's plenty to stop, see and do along the way:
Marvel at the Bailey Island or "Cribstone" Bridge
One of the most famous sites in Harpswell is The Cribstone Bridge, which connects Orr's Island to Bailey Island. "Cribstone" refers to the way granite stones were laid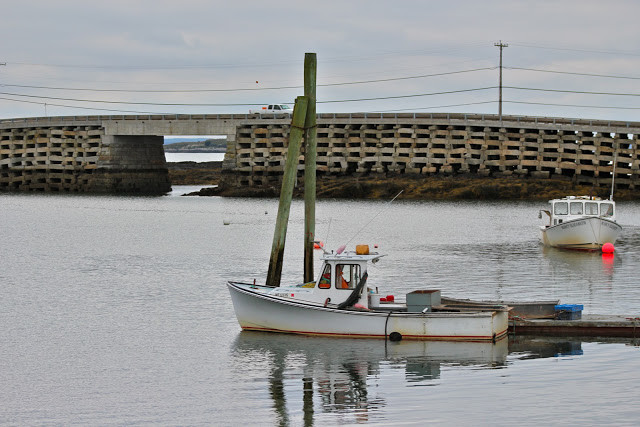 over each other in what looks like an open lattice pattern. Granite slabs from Yarmouth, the same length and width, are laid lengthwise then crosswise, and it's all held together through weight and gravity with no mortar or cement. The pattern allows the tides and currents to flow through freely. Sound kind of boring? Trust us, you'll be more excited when you lay eyes on it, because it's an engineering marvel and pretty cool looking. This bridge has held strong since 1928 and is on the National Register of Historic Places.
Sail on Casco Bay
Want to get out on the water? Brewster House always recommends a Schooner Alert Windjammer Cruise. They offer a great two hour sail in the morning and at sunset.
Stroll along Giant's Stairs
The Giant's Stairs trail on Bailey Island is another popular destination that allows visitors to view dramatic coastal Maine scenery. Named in homage to its rock formations, the trail wends along the rocky coastline. Wildlife such as waterfowl and seal poke ride the crashing waves.
Enjoy fine dining
Hey, we're not knocking lobster shacks, because Maine is ALL about the lobster shacks. But here are a couple of Brewster House recommendations for a nice sit down:
Dolphin Marina & Restaurant: family owned and operated since 1966, the Dolphin features Maine coastal fare, including Maine lobster dinners, fresh, local seafood, and hand-cut steaks. Their waterfront location offers unrivaled views of Casco Bay and its many islands.
Morris's Cribstone: owned by life-long foodies whose families have fished for generations. Specializing in Harpswell lobsters . . . or, try something new like their famous Seafood Nachos.
Check out this list for other dining recommendations.
 
Think you're done? Not even!
Orr's Island and Bailey Island have plenty of other boating opportunities, including seal sighting cruises and kayaking. Here's great list of other points of interest, including how to get outdoors a million different ways (well, almost) in Harpswell.
Yup, at the Brewster House B&B, we're pretty enthusiastic about visiting Harpswell and Land's End. If you want to continue your drive even further up the coast, ask us about Poppham Beach and Reid State Park!
Save
Save
Save
Save
Save
Save
Save
Save
Save
Save
Save
Save