Freeport, Maine, is a coastal town with unmatched natural beauty, shopping & dining experiences, craft breweries, festivals, fruit picking, and more. Planning to visit Freeport, ME, in the fall? Here are the top seven things to do this fall in Freeport, ME.
1. 24th Annual Freeport Fall Festival
Discover over 200 New England artists, makers, crafters, local food producers, and musicians at the epic Freeport Fall Festival (October 6 – 8). Kids have plenty to enjoy, from crafts to scavenger hunts to face painting. Plus, it's free to attend!
2. Freeport Outlet Malls
Freeport, ME, is a shopper's paradise. The original L.L.Bean was founded here in 1912, and today, over 170 name-brand retailers are housed at the extraordinary Freeport Outlet Malls. Some of our fall favorites include Sea Love Candles (diy candles), Vermont Flannel, and Sip House Coffee. This is a great way to spend a rainy autumn afternoon in Freeport!

3. Fall Foliage
Maine is one of the best states to experience autumn foliage. Freeport is situated in the coastal/southern region of Maine, which generally sees peak fall foliage from late September through October. When you're planning to visit Freeport, ME, in the fall, these are the top three places to see colorful fall foliage.
Wolfe's Neck Woods State Park (Freeport, ME)
Peak time: mid-October
Just a 5-minute drive from downtown Freeport is Wolfe's Neck Woods State Park. You could stroll for hours among the trees of the North Loop Trail that burst with bright yellow and orange leaves in autumn.
Bradbury Mountain State Park (Pownal, ME)
Peak time: late September to mid-October
Bradbury Mountain State Park (15 minutes from Freeport) is a great place to witness fall foliage and majestic migrating hawks throughout September.
Ferry Beach State Park (Saco, ME)
Peak time: late September to early October
Ferry Beach State Park (40 minutes south of Freeport) offers an extraordinary experience with the rare tupelo trees that turn a bright crimson in the fall.

4. Fishing & Boating
Fishing & boating in Freeport is another spectacular autumn adventure. You can rent kayaks, book a boat excursion, explore oyster farms, or take an education class with the L.L.Bean Discovery School (canoeing, fishing, birding, hiking, and more!). Want to enjoy seafood without all the work? Stop by one of our many fresh seafood restaurants.
5. Apple Orchard Picking
Apples are an abundant fall fruit in Maine. Here are three you-pick apple orchards near Freeport, ME, that you should check out during your visit.
Thomson's Orchard (New Gloucester, ME)
Family-run & operated since 1906, Thomson's Orchard has over 15 apple varieties available at their you-pick. Enjoy apple picking, hot spiced cider, homemade donuts, apple pie, and more.
Hansel's Orchard
Twenty minutes inland from Freeport lives Hansel's Orchard, providing you-pick apples of the McIntosh, Cortland, and Macoun varieties.
Willow Pond Farm
Willow Pond Farm is a 100-year-old apple orchard just 35 minutes north of Freeport. Enjoy your time apple picking, walking through the gardens, picnicking, hanging out with the animals, and shopping at the farm store.

6. Taste Wine & Beer
Tasting Maine's spectacular selection of craft beer & wine is an absolute must when planning to visit Freeport, ME, in the fall.
Maine Wine Trail
With over 29 registered wineries throughout the state, the Maine Wine Trail provides a road map to check out a plethora of wineries. Download their map online or pick one up at a local winery.
Maine Beer Trail
With well over 100 registered Maine breweries, the Maine Beer Trail provides you with a road map to try out small, handcrafted breweries across the state.
Swine & Stein Brewfest (Gardiner, ME)
Enjoy endless tastings from local breweries, wineries, cideries, distilleries, and meaderies at the Swine & Stein Brewfest in Gardiner (40 minutes from Freeport) on Saturday, October 7, 2023. Taste a delicious array of offerings from local food trucks, listen to live music, play quirky games, and more.
7. Freeport Farmers Market
Till the end of September, enjoy farm fresh goodies at the Freeport Farmers Market, held on Fridays from 9am – 1pm through September 29 at Memorial Park/Bow St. Plus, check out the Makers on Main event on the 1st Saturday of September (10am – 4pm).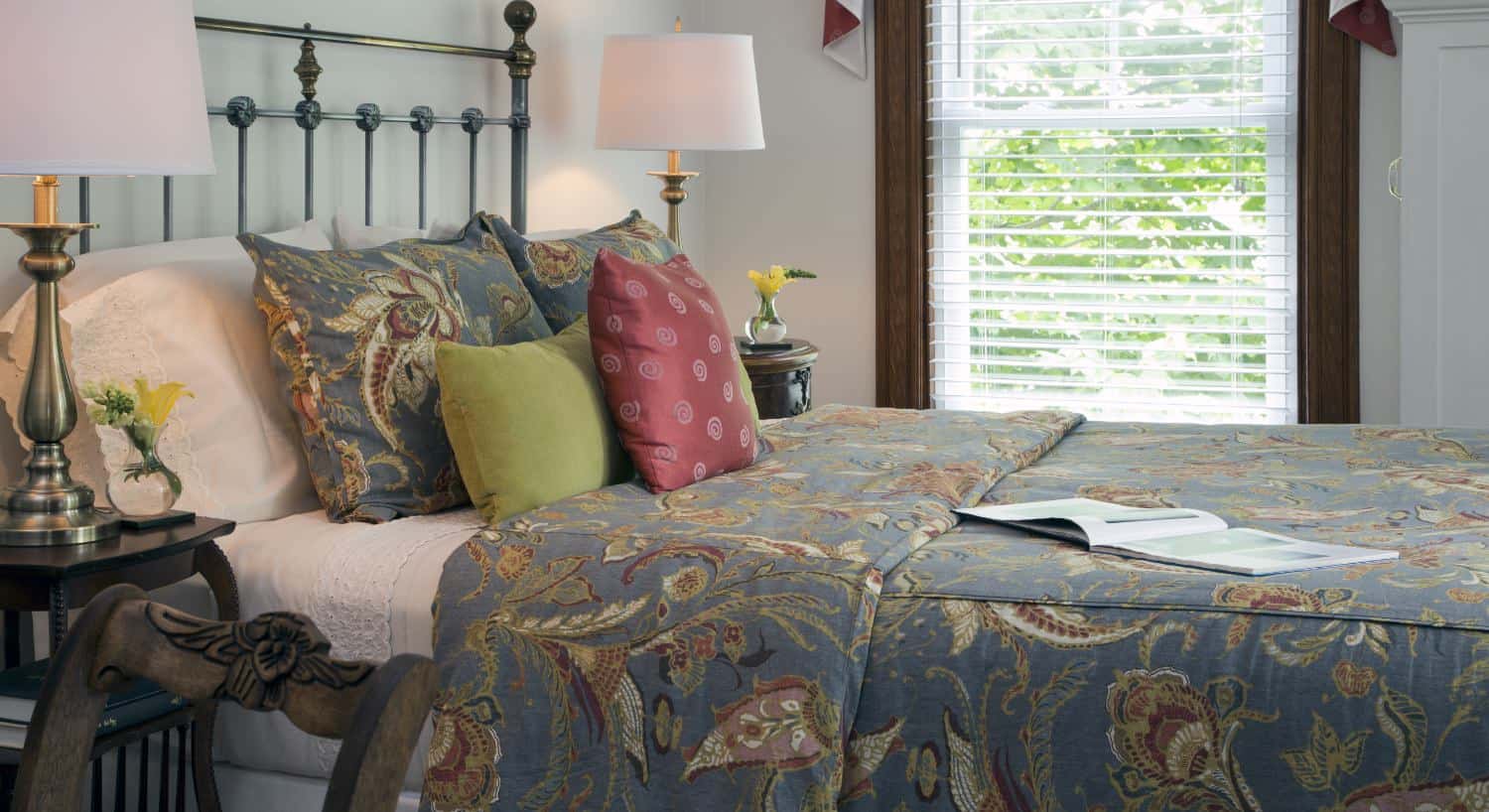 Book Your Stay at Brewster House in the Heart of Freeport, ME!
From fall foliage to fruit picking to fishing, there are so many fantastic activities to enjoy when you visit Freeport, ME, in the fall. Let the Brewster House Bed & Breakfast take your Freeport, ME adventures to the next level with unmatched comfort in an atmosphere of simple elegance.
Begin your day with our three-course gourmet breakfast, join us on a Schooner sailboat ride, kick back on the porch with a flight of Maine wine or beer, and get cozy in one of our large rooms with private baths, custom-made soaps, fine linens, fireplaces, and big bay windows.
Dropping your kiddo off to college this fall? Our 2-bedroom suites are perfect for families coming to visit! The full, hot breakfast & coffee will get you geared up for a full day of sightseeing together.
Check availability at our Brewster House Bed & Breakfast! We can't wait to host you.