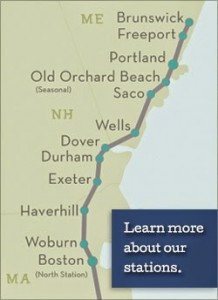 God, thank you for today!!  Mid-sixties, no wind and you could even feel the warmth of the sun on your skin!  I took a big gamble and took off my snow tires! 
What's the last thing you want to do on the weekend, after a week of commuting?

 

No more driving, or sitting in traffic, right

??

 

Brewster House has your answer!!

 

Take your comfy seat on the Downeaster, (North Station, Woburn, Haverhill or Exeter, NH), even bring your bicycle, and enjoy the ride!

 

http://www.amtrakdowneaster.com

.

 

We will pick you up and drop you off at the station, if you let us know when you'll be arriving.
Then you ask, "what will we do, Tonto?"
Brewster House recently arranged for you to
join LL Bean's Outdoor Discovery Schools
!!
For very short money, LL Bean offers an amazing array of choices of "learn to" activities.
The tie in to being car-less here is that you simply walk the 3 blocks to meet them, and they will take you by shuttle to their Discovery Center where these activities are offered (near Wolfs Neck).
If you can imagine this, you could be learning to fly fish, skeet shoot, kayak, paddleboard, or canoeing!
Further, at specified times, they will be offering mixed activities for more extended adventures, such as biking and camping, sea-kayaking including camping, etc.
In the winter, they offer snowshoeing and cross-country skiing lessons as well (snow conditions permitting).
Check out their website for dates, times and availability
http://www.llbean.com/llb/ods/33?page=outdoor-discovery-schools
.
Our new website is only weeks from being operable.
In fact, it could be sooner, but we want to hold off to include new photographs showing off
our newly renovated rooms
, which Christian Giannelli
http://www.christiangiannelli.com
will be taking for us next week.
In re-evaluating some of what's on our current website, and what we inherited vs. new directions we think we should take, we will be offering several new packages.
We know you will find them to be simply elegant and will want to come spend time with us!
One of these will be
the "LL Bean Outdoor Discovery Package,"
including your choice of activity, and a dinner gift certificate to reward you for your outdoor efforts.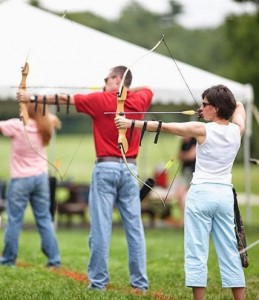 Not being a shopper myself, I've long thought we should be offering a package making it clear that shopping does not have to be your activity to enjoy the area (even though it may be your partners)!
I haven't settled on a name, and please don't jump on me with the "sexist" label, but I'm thinking of something like
"Women Shop/ Men Play Package."
Please know I am open to other name suggestions!
It is my intention to offer a range of active choices including golf, boating or LL Bean adventures, and maybe a spa treatment for the ladies!
Of course we need to reunite the group with dinner, so a dinner gift certificate will be in order as well.
I don't know about your relationship, but in ours, usually the guys and ladies team up for such weekends, so this is a perfect set-up for two or more couples!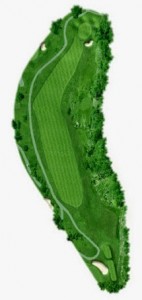 We are working with a local company who owns five golf courses, including the Bath Country Club and Sunday River Golf courses for a

Golf

 

n'Stay Package

.
You know those less exciting seasons?
Here we call them stick and mud season, but you may feel the same about winter.
Don't forget
Reconnect Weekends
, where during our slower seasons, you and your family/ friends/ college buddies/ co-workers can take the whole inn for a VERY DEEP DISCOUNT.
Jump into Spring with a plan to come to Brewster House and play
!!
Please call if we can help you plan, or answer questions for you!
We love to help people relax and enjoy life!!!