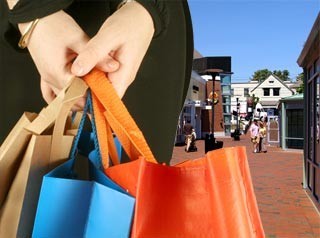 Freeport outlet shopping
Every year a number of our guests call to make reservations for their visit to Freeport, and, in the process, ask our advice on other places to go and things to see – both while staying in Freeport, and as suggestions for the other parts of their trip.
We're well aware that other people don't always travel the way we do, but we can give some recommendations based on the way we like to do it.
We tend to find a place like Freeport, and plan to stay a few days. Perhaps just two nights (giving only one full day to explore), but more likely 3-5 nights. We use that as a base of operations, from which we can shop or explore the area with day trips, and we don't have to pack up and move too often. After our several days are up, we move on to another location and repeat the process.
So, what do we suggest?
About two thirds of our visitors come into Maine from the south, so Freeport is likely to be their first stop. We suggest staying here 3-5 nights and visiting things within an easy drive of Freeport. Then, depending on the interests of the guests, and the overall length of their vacation, we suggest they visit the Bar Harbor area (or some of the nearby areas), or one of the inland regions like Moosehead Lake, or the Baxter State Park area. If they have time and interest, perhaps both.
What is there to do in these areas?
The Freeport area
Freeport is widely known as the home of L.L. Bean, and in fact L.L. Bean has five stores in town. All that retail has attracted even more retail, so there are over 160 other shops and restaurants all within a short walk from Brewster House. For most people, that provides a day or so of shopping, in itself.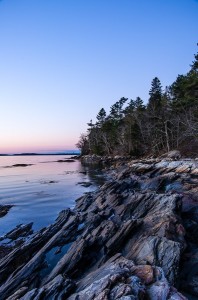 Wolfes Neck Woods State Park
If you like the coast, there are two state parks, Wolfes Neck Woods State park along the water, and Bradbury Mountain State Park inland, within a few miles of Brewster House. Both offer excellent hiking and views. A bit farther away, about 20 minutes or so, are Popham Beach State Park, with its beaches and historic Civil War Fort Popham on the shore, or Reid State Park, with trails, rocks, and beaches, are just the thing.
Then, of course, there are lighthouses – are there ever lighthouses! Maine has over sixty lighthouses, and many are within an hour or so drive of Freeport. We regularly send guests out with our maps, or more information if they are on our Lighthouse Tour package, to see some of the lighthouses north or south of us. Typically they can visit about six lighthouses to the south in a day, or between 3 and 6 to the north, depending on interests and endurance. Along the way, guests often want to visit some of the many lobster shacks we've identified on our map of Maine lobster shacks.
In two weeks, we'll talk about Bar Harbor and the surrounding area
Ruth & Scott
Brewster House Bed & Breakfast, Freeport, Maine