February 8, 2016 by Kelleigh Dulany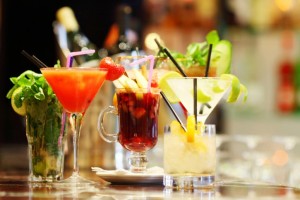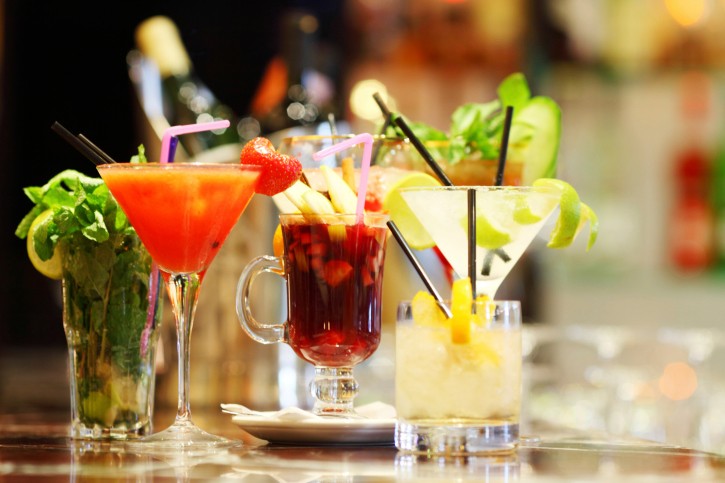 Maine Restaurant Week is an annual celebration of food & drink that takes place early every March, and is a fabulous excuse to "get out of Dodge" and enjoy the growing warmth of the sun, by the sea here!  It runs from March 1 – 12, and some ticket sales are limited, so don't wait too long to commit or your options may be limited.
The festivities open on February 28th with "Spirit Quest," @ 2PM on Sunday in Old Port, with a walk including combinations of delicious "bites" and cocktails through some of the finest restaurants in Portland.  The list of participating establishments is growing, but already includes such notables as David's, TIQA, 555 and Liquid Riot!  Looks like $40/ participant to us.
The list of participating restaurants is growing, as we speak, but will include some of the most amazing restaurants in the State of Maine, offering 3 course dinners for $25, $35, $45 or $55, + special MRW lunches for only $15!  For sure our favorite, the Azure Cafe in Freeport will be participating.  Some special MRW menus are already online, with more appearing daily, as more restaurants sign up.
Hey, on Sunday, March 13th, @ 2PM the "Coffee & Desert Pairing Event" is to be held in Portland.  This sounds like a hot one to a boy with a very serious sweet tooth!!  "Coffee by Design's" roastery team is creating their best brews to go with bite sized tastes of the most incredible desert entrees from the likes of Dean's Sweets, Two Fat Cats, Love Cupcakes and Scratch.  More are signing up every day too!  Tix are $35 and to sweeten the deal, this is benefit supporting the fine work of Preble Street (homeless shelter).
At Brewster House, we have the breakfast gig well covered, with your 3 course gourmet breakfast, and fresh ground coffee prepared in a french press, and home baked cookies and cakes for your afternoon delight!  There are no more comfortable beds and linens, nor more commodious baths on the coast of Maine!and let's not forget the fireplaces…..  Make you reservation today.  As a note, we will be away from 2/19 until 3/1, but our "Spring Serenity Special" kicks in on that date, meaning we offer 3 night stays for the price of 2 nights.  See our Spring Serenity package for details!
Save
July 31, 2014 by Kelleigh Dulany
It's very hard to blog, unless you feel something about the subject. When escaping Brewster House, Mary and I  often speculate on what a great place to live Harpswell Neck will be when we quit innkeeping (don't get nervous!). The Neck and adjacent islands www.harpswellmaine.org are our escape (only a ten minute ride from Brewster House), and a quietly stunning example of the glacially sculpted fingers into the ocean that comes to mind when most of think of Maine! The ride down Rt. 123 starts with some big farms, and if you look close, you'll see salt meadows at the ends of the fields.  You might stop in to Nance's Seafood Shanty (in front of a large gorgeous farm, which reaches right down to tidal marsh)  a few miles onto the road for a fab lobster, clam or crab roll and fresh lemonade.
A few miles south, you'll have to decide to head straight down Harpswell, or follow the sign west to rt. 24.  Crossing  over Harpswell Cove to Great Island, turn right on 24 and you'll know your crossing onto Orrs Island, as you drop and twist into the stunning vista of Merriconeag Sound and Gun Point Cove.    The ride over Orr's Island is a delight of roller coaster turns, dives and climbs as you take in the sparkling atlantic vistas of granite, fir and modest, and the occasional lovely waterfront homes or cottage.  These islands and Peninsula actually include 216 miles of rugged Maine coastline!
Bearing left shortly after leaving Brunswick down Rt. 24 would take you to the real Maine lobster fishing village of Cundy's Harbor, which  doesn't really look like anything has changed in 50 years!  Want authentic?  Grab a sandwich at Holbrook's Snack Bar!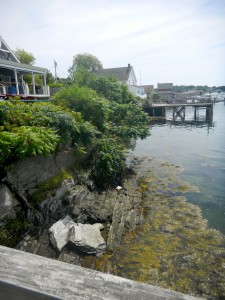 I digress, back south on rt. 24 we come to the Village of Orr's, just before the longest granite bridge in the world  connects Bailey Island to Orr's, over the fast running Will's Gut.http://www.bowdoin.edu/news/archives/summerresearch/003397.shtml.  To your right is Cooks Lobster House, left Morse's Cribstone Grille.  Either will serve you lunch or dinner right on the ocean!  Around Cooks, many boating opportunities are available, including our favorite new schooner charter, Alert w/ Captains Perry & Bethany  https://www.facebook.com/SchoonerAlert!   Heading south, Mackerel Cove is the textbook picture of a lobster fishing harbor, and just to it's left, a path for a scenic hike down The Giant Staircase!  Then to one of the Gile Family favorites, Estes Lobster House.  Very reasonable and again, oceanside outdoor dining, facing the sunset!!
There are several art shops, antique stores, quilters, ice cream shops here and there, in places you'd never expect to see them, all over Harpswell. Had we stayed on Rt. 123, rather than crossing over to Orr & Bailey Islands, we'd have cruised by several lovely coves and inlets on our way to the Village of Harspwell.  A mile or so south, there's a little dirt road to the right that circumnavigates Basin Cove, ending at The Dolphin Restaurant & Marina.  The Dolphin was completely rebuilt a little over a year ago.  The dining room sits right on Casco Bay and is 180 degrees of glass for your eating, drinking and socializing pleasure.  A sublime way to end a great day exploring Harpswell Neck!  Then, back to that killer bed with the ironed sheets and that unbelievable next days breakfast awaiting you at Brewster House……..