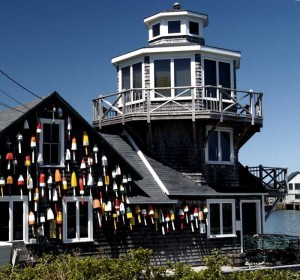 Our two previous posts, on Planning Your Maine Getaway and Touring Some Out of the Way Places have merged into an idea of what type of day trips make sense from a relatively accessible area like Freeport, where Brewster House Bed & Breakfast is located.
Of course, if you can only stay a short time in Freeport, from one to three or four days, we would normally suggest day trips that are within about an hour to a two hour drive from here. That will allow for some absolutely wonderful sightseeing (several lighthouses, moose, beaches, rocky coastlines, hiking in state parks, exploring quaint villages, historic sites, and more). We've written a number of posts about these spots, such as our Ten Things to do Near Freeport Maine (Other Than Shop), 5 Maine Lighthouses You Can Visit (Within About An Hour of Freeport) and of course our series called Visiting Maine: Where to Find the Information You Need.
If you have the time, however, there is much more to see! In fact, that is one reason the official (and excellent!) State of Maine website has as its slogan, "There's more to Maine."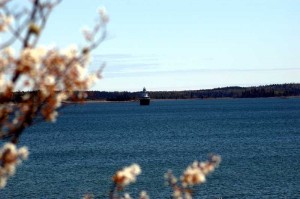 Our day trip up the coast to Lubec (just across the river from Canada's Campobello Island) is the proof that you can really cover a lot of territory in a day trip from Freeport. We were up and away early. While we have found that taking US-1 is not much different than taking I-295 to I-95, then back down to US-1, there was a big difference this time. The State of Maine will be doing major road improvement on US-1A between Bangor and Ellsworth, and the delays were (and will be through fall 2010) significant. Even so, once we were back to US-1 we drove along through the beautiful scenery until we reached Lubec, where we stopped to take pictures of the Lubec Channel light, then went on to West Quoddy Head Lighthouse, where we enjoyed a picnic lunch overlooking Quoddy Narrows and its (Canadian) islands.
After lunch we went into Lubec, where we photographed the Canadian Mulholland lighthouse (just across the river) near the Roosevelt Bridge to Canada and learned from a friendly museum curator about the smokehouse and its use in smoking herring.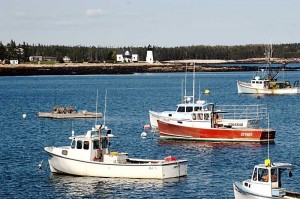 As we returned south on US-1 we took several side trips, exploring the coastline near Cutler Harbor, Hancock Point, and the Schoodic Peninsula section of Acadia National Park, as well as Prospect Harbor, Winter Harbor, and vicinity. We also had time to visit Mount Desert Island and Bass Harbor Lighthouse, before returning to US-1, where we drove to Camden, Maine for dinner, then returned home.
Yesterday, in search of more lighthouse photos, we repeated part of the route as another day trip. We drove to Mount Desert Island, where we again visited Bass Harbor Head Lighthouse, then decided to explore some areas of the island we had not seen previously. We found some wonderful harbors and vistas, then returned to US-1, where we went from antique shop to antique shop until they had closed for the afternoon.
All of which goes to show that even some fairly far-away sights can be included in a good day's activities, if you're willing to make a bit of a drive.