The distinctive red and white stripes of West Quoddy Head Light are readily visible overlooking the Grand Manan Channel and the Bay of Fundy at America's easternmost point.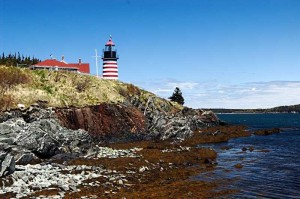 Just off the rocky beach below the lighthouse, Sail Rock protrudes ominously from the surface of the water, ready to tear apart any vessel daring to approach too closely. In 1806 a light station was authorized by Congress, to assist mariners traveling in these treacherous waters, just south of Canada's Campobello Island, and west of Grand Manan Island. The light station was established in 1808, and a fog signal added in 1820.
Owing, at least in part, to the harsh winter climate, West Quoddy Light Station was not well-constructed, and not well-maintained, so the tower was rebuilt in 1830, and the present 49 foot tower was constructed in 1857, sitting 83 feet above sea level, with its 35,000 candlepower beacon visible about 18 miles offshore. The red and white stripes appear to have been added shortly after the present tower was erected.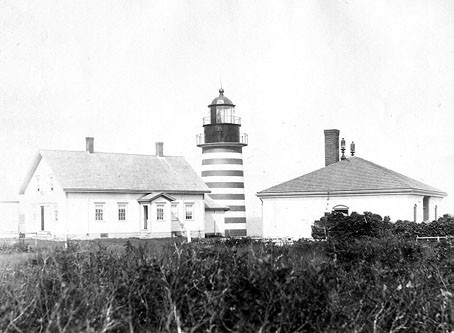 In the latter part of the 1800's West Quoddy was considered a good assignment for a lighthouse keeper, in part as a result of its proximity to the town of Lubec, Maine. In fact, when one of the keepers of the light failed to keep up the maintenance of the site, he was transferred to a less desirable location as a punishment. He resigned, rather than return to the harsh conditions at the station to which he was to have been assigned.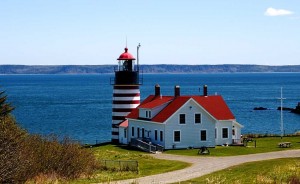 The lighthouse grounds are now part of Quoddy Head State Park, and there are trails along the coastline, and through the woods, with picnic tables, and steps down to the rocky shore. Whales and bald eagles can often be spotted near the lighthouse. It is a site that is well worth a visit. While there, a short drive takes you to the town of Lubec, where you can see Maine's Lubec Channel lighthouse, cross the bridge to Canada's Campobello Island, vor iew Mulholland Lighthouse across the channel.
West Quoddy Head Light Station is about 4 hours from Brewster House, but it is well worth the drive. The drive itself is a beautiful one. We left after breakfast, had lunch at Quoddy State Park, and still had time to explore Lubec, then make several stops on the way back home, for a full day of exploring.
For more information, see
The Lighthouses of Maine

, by Jeremy D'Entremont