To say that Freeport – long known as a great location for unique shopping opportunities – has been in a transition, is putting it mildly.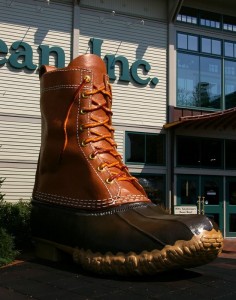 For years, possibly decades, Freeport has been known as not only the home of L.L. Bean, and the location of its ever-growing number of stores from clothing to boats to hunting to outlet (with more on the way), but also as a great location for a mix of true outlet stores and great local and regional retail stores, most in historic buildings, and all within a short walk down Main Street or a block up one of the side streets. Many recall the walk down the hill to the dirt parking lot where the L.L. Bean factory store was located. Now all that has changed.
For the past year or so the old dirt parking lot has been the site of a major construction project, as L.L. Bean and its partners have been creating a new two-story parking garage with two stories of retail and restaurants above. The construction is nearing completion, and the first stores have opened. First up was a new Nike outlet, with its grand opening last weekend, along with the new Coach outlet and Linda Bean's Perfect Lobster Roll. More stores will continue to open throughout the summer, with special savings often available.
Maine Maven has written a nice post about the new Freeport Village Station shopping mall, and points out that if you mention "Loyal Local" to a clerk, you should receive a "passport" of coupons for additional savings.
Come join us in Freeport, and don't forget to use the words "Loyal Local" at Freeport Village Station!