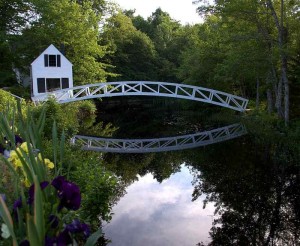 This stop on our tour through the regions of Maine brings us to Downeast and Acadia, for many, best known as the home of Bar Harbor, and that section of the Maine coast stretching north of Bar Harbor to the border with Canada. Previous posts can be found here.
This region has several sub-regions, each with its own beauty and activities. We won't necessarily cover them all individually, but note that you can find out about each of them at the Downeast and Acadia region website. In this post we'll briefly introduce the entire region, and in later posts we'll talk more about some of the specific areas. One good overview page to check is Isabelle's Travel Guide from @IsabellesTravel.
The area most people are familiar with is Mount Desert Island, and its best-known town, Bar Harbor. This is also the location of Acadia National Park – one of America's most-visited national parks. The park encompasses the major part of Mount Desert Island, as well as the Schoodic Penninsula and several outlying islands. One of the sights not to miss is the view from the top of Cadillac Mountain, at 1,532 feet the tallest of the seventeen peaks in the park. The scenes from Park Loop Drive are wonderful, and you can easily visit the towns of Bar Harbor, Southwest Harbor and Northeast Harbor, as well as Bass Harbor Lighthouse, and many other wonderful sights.
While Bar Harbor and Acadia National Park are perhaps the best known parts of the Downeast and Acadia region, the other parts are also well worth a visit! The East Penobscot Bay sub-region includes the wonderful new Penobscot Narrows Bridge and Observatory, as well as Bucksport and Fort Knox (not the one with the gold, though). Its Blue Hill penninsula is beautiful, and filled with artists, charming inlets and harbors, and quaint villages.
Ellsworth and Trenton provide a wonderful gateway to Mount Desert Island, with a history of their own, antique shops, and more!
The sub-region known as Schoodic and Downeast provides a region of the Maine coast that sees far fewer visitors than the areas from Bar Harbor south. In fact, at Brewster House, we have guest who spend a few days in our area, then head north every year for several days of isolated reverie in the Schoodic and Downeast region.
Machias Bay is another historical beauty, set against the rugged Maine coast. In late August this area celebrates the Maine wild blueberries – a delight to the senses!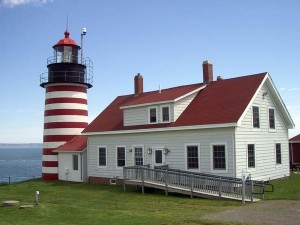 The sub-region known as "Way Downeast" stretches along the coast to the Canadian border and includes West Quoddy Head Lighthouse – marking the easternmost point in the United States. It also stretches north and inland, to the Greater East Grand Lake region, and its magnificent wilderness vistas.
Before preparing this post, we asked friends on Twitter to recommend some of their favorite areas of Maine, saying we would link back to them if we used their recommendations. We received several great suggestions, many in this region. Those we didn't use here, may well appear in future posts on some of the sub-regions of Downeast and Acadia.
Meanwhile, if you have any suggestions of things we should include in our "Visit Maine Like A Mainer" series, please feel free to post them in the comments, or to Tweet them to us.