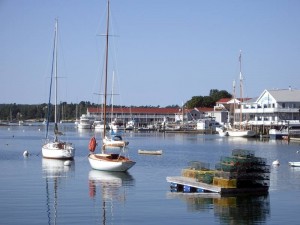 As we continue our Visit Maine Like A Mainer! series, we come this week to Maine's Mid-Coast region. Some of Maine's top destinations are located here, including Camden, Rockland, Boothbay Harbor, Wiscassett, and more!
Venturing north from Brewster House, we first come to Brunswick, home of Bowdoin College whose famous connections include authors Henry Wadsworth Longfellow and Nathaniel Hawthorne, Civil War general Joshua Chamberlain, and arctic explorers Robert Peary and Donald MacMillan.
Heading toward the coast, you find Bailey Island and Orrs Island, with scenic points and cottages. North on US-1 is Bath, with antique shops, the Maine Maritime Museum and Bath Iron Works, one of Maine's largest employers. Driving to the coast from Bath you'll find parallel state parks on opposite sides of the river, Popham Beach, with its Civil War fort, and on Georgetown Island, Reid State Park, with its rocky crags and sand beach. Five Islands, with its "10 best" lobster shack is nearby.
Driving north on US-1 from Bath, you come to Wiscasset (home of Red's Eats, another "10 best" lobster shack), then the Boothbay region and Boothbay Harbor with its shops, ships and vistas. Returning to US-1 you'll find Damariscotta and the Pemaquid Peninsula – one of Maine's best kept secrets (thanks to @squashbuckler and @walpolebarn for mentioning this). Besides the magnificent Pemaquid Point Light Station, there is New Harbor and whale watching tours, a coastal drive along Route 32, and Shaws, yet another "10 best" lobster shack.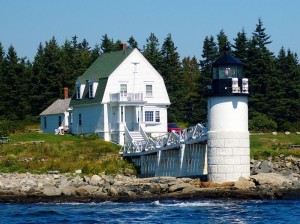 Returning to US-1 you'll find Waldoboro and Moody's Diner, Thomaston (home of George Washington's Secretary of War, General Henry Knox) and its quaint houses and the Maine State Prison Store, and Waterman's Beach Lobster (another "10 best"), then down the peninsula to Port Clyde and Marshall Point Lighthouse. On the way back to US-1 stop at Owls Head Lighthouse to admire to view over the hilltop to Penobscot Bay.
Next is Rockland and its breakwater lighthouse, and the Farnsworth Museum, then on to Camden and its wonderful views of the beautiful harbor, schooners, and its shops. Try the view from Camden Hills State Park for a truly majestic scene!
A vacation in itself, your visit to Maine is not complete without at least a day trip to Maine's Mid-Coast region.
If you have suggestions of places you would like us to include in our "Visit Maine Like A Mainer" series, please feel free to post them in the comments, or to Tweet them to us.