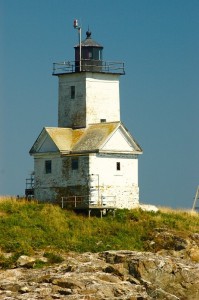 Do you enjoy lighthouses? Or, perhaps you have never visited one, but want to see what all the fuss is about?
At Brewster House we love lighthouses (as most of our guests know!). We often provide the guests with maps and directions to lighthouses, and also have several packages that include lighthouse tours as well as other items.
We were really pleased to see that this year the State of Maine, the U.S. Coast Guard (who maintains the lights), and the American Lighthouse Foundation are combining to provide the first ever open house of Maine lighthouses as part of Lighthouse Day. On September 12, 2009 some 52 of Maine's more than 60 lighthouses will be open, providing free access to the public. Transportation to the lighthouses will not be provided, so if you want to visit them, you'll have to find your own way to them.
In celebration of Lighthouse Day, Brewster House has prepared its own map of Maine lighthouses, to help you find your way to them. The map below can be zoomed, and driving directions can be obtained via Google Maps. If you click on the link at the bottom of the map, you can see a larger version. Below the map is the list of lighthouses participating in the Lighthouse Day open house and more information about them.

View Maine Lighthouses – Brewster House Bed & Breakfast in a larger map
Lighthouses participating:
Downeast and Acadia Region
Baker Island Light
Bass Harbor Head Light
Burnt Coat Harbor Light
Deer Island Light
Egg Rock Light
Eagle Island Light
Great Duck Island
Libby Island Light
Little River Light
Lubec Channel Light
Moose Peak Light
Mount Desert Light
Petit Manan Light
Prospect Harbor Light
West Quoddy Head Light
Midcoast
Browns Head Light
Burnt Island Light
Cuckolds Light
Curtis Island Light
Dice Head Light
Doubling Point Light
Franklin Island Light
Fort Point Light
Goose Rocks Light
Grindle Point Light
Hendricks Head Light
Heron Neck Light
Isle Au Haut Light
Marshall Point Light
Matinicus Rock Light
Monhegan Light
Owls Head Light
Pemaquid Point Light
Perkins Island Light
Pond Island Light
Ram Island Light
Rockland Breakwater
Saddleback Ledge Light
Seguin Island Light
Squirrel Point Light
Two Bush Island Light
Whitehead Light
Portland & Casco Bay Region
Cape Elizabeth Light
Halfway Rock
Portland Head Light
Ram Island Ledge Light
Spring Point Light
The Beaches Region
Boon Island Light
Cape Neddick
Goat Island
Whaleback Light
Wood Island
More information is availble from Lighthouse Day and from the Maine Office of Tourism.
Enjoy a lighthouse!