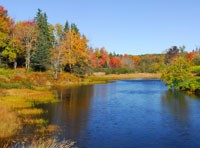 Maine's largest and most northern county, Aroostook, is the topic of this week's installment in the Visit Maine Like A Mainer! series. A listing of all the regions and sub-regions covered is at the end of the first post.
There are not a large number of people in Aroostook County, despite it's making up more than 20% of the state of Maine. In fact, there are only about 11 people per square mile. Contrast that with Maine's average density of about 41 people per square mile, and Massachusetts' 809 people per square mile or New Hampshire's 137. In addition to those few people, "The County" (as the rest of Maine refers to it) is blessed with a sizable proportion of Maine's 35,000 moose population, as well as deer and bear. It is truly an outdoor paradise.
From bicycling to 4-wheeling, from hunting, fishing, or golf, to hiking, camping, bird watching, and other outdoor activities, there is much to do or see, though it isn't always appreciated by those who have never been to The County. For a great tale of a visit, and the bemused reaction of others in Southern Maine to the plans to visit Aroostook, take a look at the Visit Aroostook site.
Being such a large county, Aroostook can be divided into smaller regions, each with its own temptations and attractions. Ranging from towns like Fort Kent and Madawaska, along the Canadian border, to the North Maine Woods, to Southern Aroostook, there are scenic drives, and unfathomable beauty at every turn.
The region has many hunting camps, and guide services, as well as B&Bs, hotels, housekeeping cottages and other forms of accommodations. Loads of information for planning your trip to the County is available on the Visit Aroostook site.