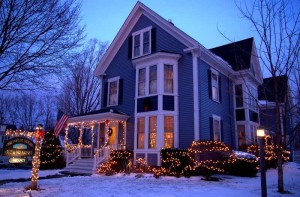 It seems too early in the year to be thinking about Christmas, but we're well into September, and for those making plans for early December, it is already time to begin thinking about Freeport's 16th annual Sparkle Weekend.
This year Sparkle is December 4, 5 and 6. Typically the weekend includes L.L. Bean's Northern Lights celebration nightly (from November 20 – January 1), horsedrawn wagon rides, hot cocoa, an open house and tour of Freeport's historic bed and breakfast inns, a talking Christmas tree, a parade (with Santa arriving in a lobster boat!), visits with Santa, Freeport Community Players' Old Time Radio Show, a Jingle Bell fun run, a craft fair, a tuba concert, and more!
In 2008 L.L. Bean displayed the largest Christmas tree east of the Mississippi River, lit with energy-efficient LED lights, and provided entertaining ice carving demonstrations, as well as other instruction and demonstrations around the tree.
All this is in addition to the nearly 200 shops and restaurants in Freeport, a number of which will be offering special bargains and packages for the occasion.
Many guests book rooms for Sparkle Weekend for the next year as they depart from the previous year, so rooms can be in short supply. Be sure to plan early, to be sure your room is available.