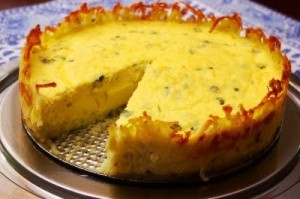 Like many innkeepers, we find that a number of our guests need gluten-free meals. In searching for this type of thing, Ruth came across this quiche from Martha Stewart, which we served today, to high praise from all the guests!
We served it as presented this morning, but will be trying it in the near future with fresh spinach and sun-dried tomatoes added, as well.
Gluten-Free Quiche with Goat Cheese
2 tablespoons butter, softened, plus more for pan
1 package (1 pound) frozen hash brown potatoes, thawed
12 large eggs
Coarse salt and ground pepper
1 1/2 cups reduced-fat sour cream
1 package (4-5 ounces) soft goat cheese, room temperature
4 scallions, thinly sliced
Directions:
Preheat oven to 375 degrees F. Brush a 9 by 2 1/2 inch springform pan with butter. Line the sides of the pan with strips of waxed paper (the same height as the pan); brush paper with butter.
Squeeze excess moisture from hash browns. Mix in a bowl with butter, 1 egg, 1 teaspoon coarse salt, and 1/4 teaspoon pepper. Pat into bottom and up sides of prepared pan, using a moistened dry measuring cup. Place on a rimmed baking sheet; bake until set, 15 to 20 minutes.
In a large bowl, whisk sour cream, goat cheese, 1 1/2 teaspoons coarse salt, and 1/4 teaspoon pepper until well combined; whisk in 11 remaining eggs. Pour into crust, and sprinkle with scallions. Bake until set, 45 to 50 minutes. Unmold quiche, and peel off waxed paper before serving.
Serves 6-8, depending on serving size.
Enjoy!